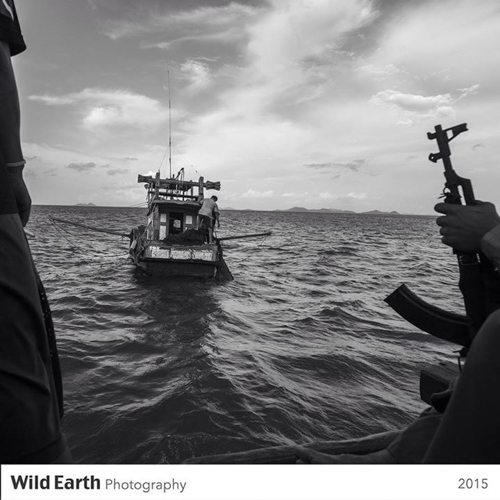 Since 2008 we have been campaigning against the unsustainable and destructive bottom trawling in the shallow waters of Cambodia, that continues to devastate Cambodia's Marine Resources , According to Cambodian Fisheries Law Bottom Trawling is outlawed in all marine inshore areas, that means any areas shallower than 20m from the high tide line, this can be found in the revised 2006 Fisheries Law, under article 49, and Inshore areas are classified under article 11 as seen below.
Article 49.
Trawling in the inshore fishing areas shall be forbidden, except for the permission from the Minister of Agriculture, Forestry and Fisheries at the request of the Fisheries Administration to conduct scientific and technical researches.
Article 11.
The Marine Fishery Domain refers to marine water or brackish water that extends from the coastline at the highest high tide of the coastal lines to the outer limits of the Exclusive Economic Zone of the Kingdom of Cambodia. The Marine fishery domain is divided into: -Inshore fishing area, which extends from the coastline at higher high tide to the 20 meter deep line. – Offshore fishing area, which extends from the 20 meter deep line to the outer limits of the Exclusive Economic Zone of the Kingdom of Cambodia.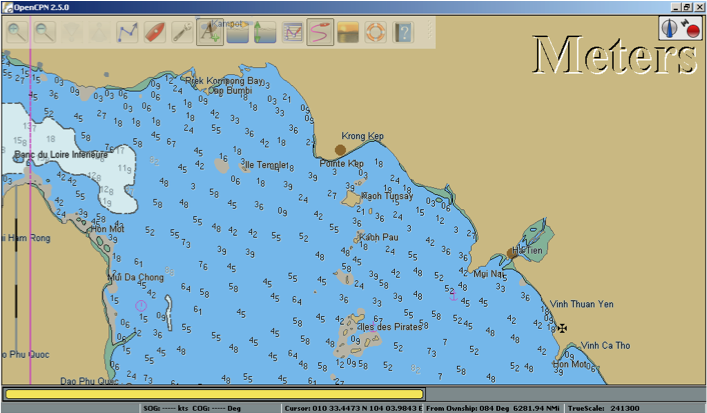 After Moving to Kep we also found that the trawlers here not only Trawl in areas Shallower than 20m, but that Kep's Waters (home to some of the largest Seagrass beds in SE Asia) are no deeper than 10m anywhere within the provincial waters. Now before you start thinking how awful the government or the authorities are for allowing this, you must first understand that until Thursday the 3rd of December 2015 Kep only had 4 officers and no patrol boat to tackle this issue, they had to rely on Kampot to send its boats and officers, which could take anything from 1-3hrs to arrive. When Kampot would run fisheries patrols a network of informants would inform the illegal fisheries and they would have time to head in and cease their activities leading to the conclusion that Kep had very little illegal fishing, but it was quite the opposite, infact it is well organised and has been run almost under cover for the past 10 years. Only because we are out there on the water everyday and every night, has it become clear to the extent of the problem and the damage it is causing. Our work and that of the previous volunteers has led not only to the creation of Keps own Fisheries office but also to provincial support on a major crackdown on illegal fishing.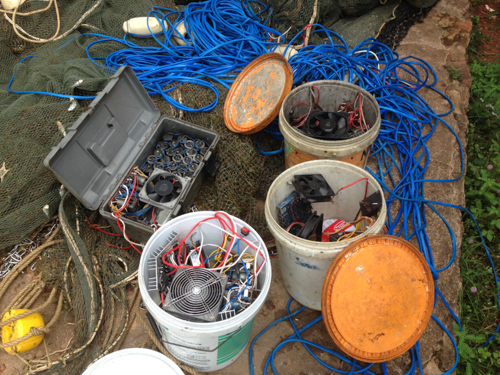 With that in mind, add to the fact that many of the Illegal trawlers are also using a system of electric that passes up to 1000 volts through the net to the sea floor, electrocuting everything within a few meter radius of the electric current.
Electric is also outlawed in Cambodia under Article 98. As a class 1 offence it carries the highest penalty of any fisheries offence.
Article 98
Shall be penalized under the fishery offences class 1 by imprisoning from three to five years and all evidence shall be confiscated for state property or destroyed and terminated of all agreement, licenses for any person who commits one of the following offenses:
4. Fishing with electrocuted fishing gears, explosive and all kinds of poisonous substances in the fishery domains.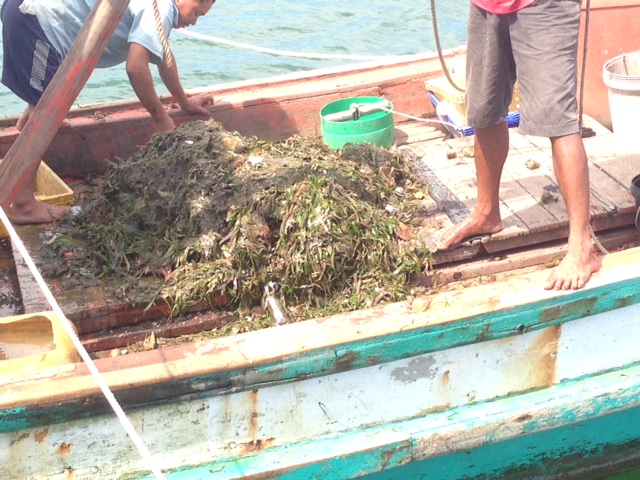 They also then trawl straight through Kep's Seagrass Beds ripping up vital habitat and taking with them any living creature bigger than 1cm, Trawing through Seagrass is also outlawed under Article 52.
Article 52. shall be prohibited:
1. Fishing or any form of exploitation which damages or disturbs the growth of sea grass or coral reef.
2. Collecting, buying, selling, transporting and stocking of corals.
3. Making port calls and anchoring in a coral reef area.
4. Destroying sea grass or coral by other activities.
The Fisheries Administration is desperately trying to tackle this issue, but even now with slightly more than their original limited resources and manpower it is a very very difficult job, Thats were we come in, Marine Conservation Cambodia and our volunteers patrol the ocean within Kep Provincial Waters and report all offences back to the fisheries department, after taking photos and video, and often chasing the trawlers out of the most sensitive areas. We also often have fisheries officers stationed at our project base, who together with our team can directly arrest illegal fishers and confiscate their illegal equipment before they have time to escape with their haul.
You can check out some of the pictures from the patrols here, and read some of the blog posts from previous volunteers here
We have also gained a lot of media attention and you can see some of the recent articles from 2015 below
The National Newspaper, The Cambodian Daily Ran a Story on Illegal fishing in Kep and mentioned our work.
Our Founder and Director was also featured recently in the UK's Daily Telegraph, covering the active conservation work and patrolling.