Conserving the Kep waters is only possible because of our excellent team. Scroll down to read more about our team members.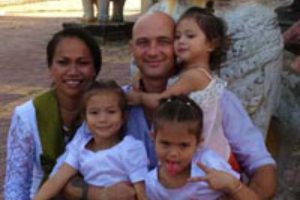 Paul, Sao and family, Founder
Every family needs a mum and dad, and those roles fall to Paul and Sao. Paul is not only the founder, but also the creator and fearless leader of MCC. Fighting alongside Paul is his wife, Sao. She is a strong powerful woman, who stands with him, supports him, and helps him turn MCC into what it is today. They have four amazing children together, Jasmine, Fern, Holly and Sienbe.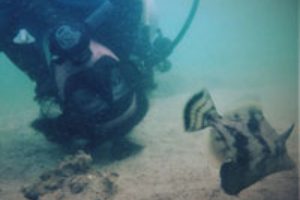 Rachana Thap, Executive director
Rachana first joined our team for her 6-month internship for her Environmental Science major at Pannasastra University of Cambodia. Rachana, together with three other interns, created the "Artificial Reef Team Project" for their final year project. She is now our amazing executive director. Passionate and determined, she is the future MCC leader!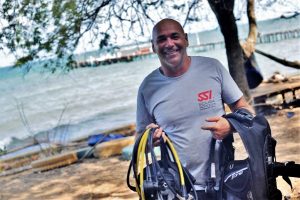 Billy Brebner, Diving Instructor & Safety Officer
Billy describes himself as the village idiot who has found his village. More than our fantastic diving instructor on the island, his enthusiasm and wicked sense of humor keeps us all entertained and inspired. Reliable and all-round handy man, he is a much loved team member, the life and soul of any party, and the underwater champion.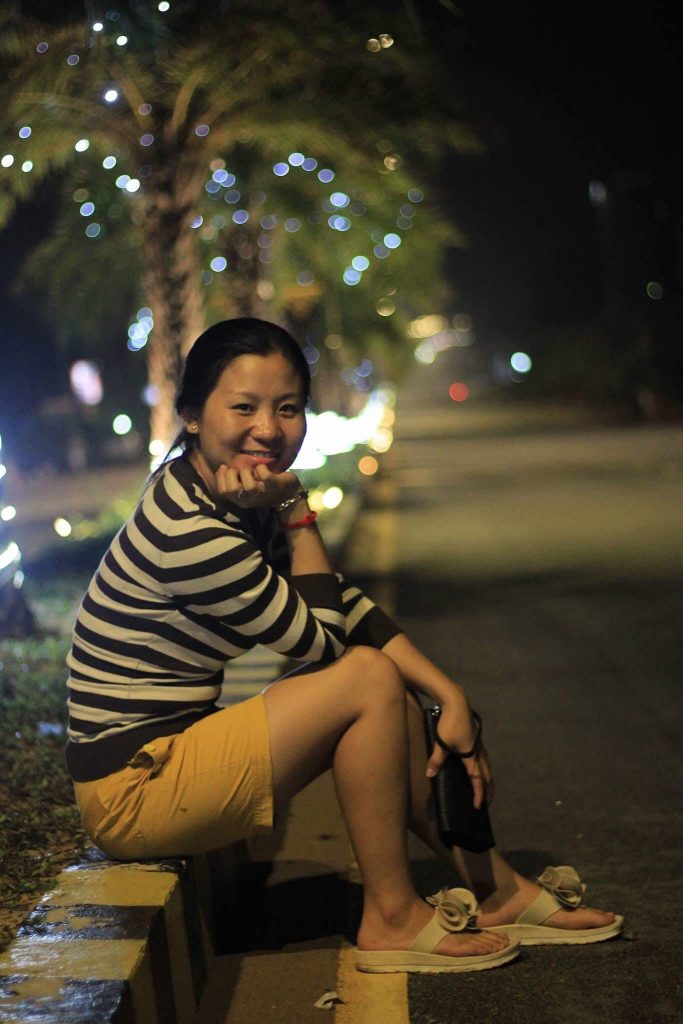 Phalla Leng, Administrative Manager
Phalla has 14 years of experience working in Marine Conservation, she was involved the Creation of Cambodia's first MFMA around the Koh Rong Archipelago, She Also worked on the creation of the Kampot MFMA.
Her experience and good relationships within the Local fishing communities is invaluable in helping to blend good management of protected areas with the needs of local communities.
She is experienced in marine research, and is involved with the training new generations of Cambodians in all aspects of Marine Conservation.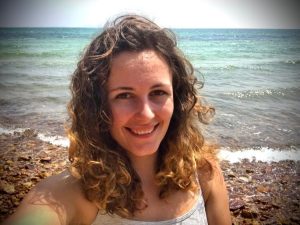 Becky Chambers, Lead Scientist, MCC's Cambodian Marine Mammal Conservation Project
I first joined MCC in 2018 for a year abroad in my undergrad degree. After finishing my MSc in Marine Conservation I'm now back to head up the Cambodian Marine Mammal Conservation Project. I'm so excited to have the opportunity to use science to directly impact conservation efforts and collaborate with the other teams here at MCC. I also help out with some of the dive training. When I'm not diving, surveying or researching I'm usually painting or making something.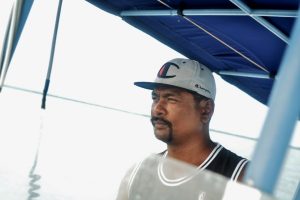 Phon, Speed Boat Captain and Head of Construction
Phon is a man of few words, but that doesn't stop him from getting involved and learning about the volunteers. Even with his limited English, it is easy to communicate with Phon. He is the speedboat captain, patroller, and the repairer of the many engines on the island.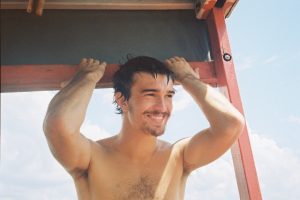 Tanguy Freneat, Financial Manager
Tanguy studied Political Sciences at the University of Toulouse, France. When he's not underwater building artificial reefs he is busy on excel.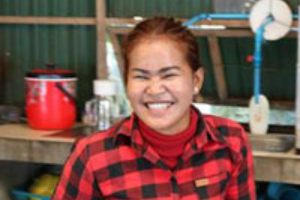 Mao, Chef and Kitchen Master
Mao works hard in the kitchen to provide the whole MCC family with delicious food. Besides making everyone laugh, she is also on hand to braid your hair, cover your cuts and keep the whole island in line.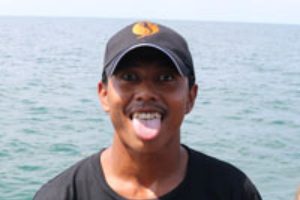 Samnang Ry, Medium Boat Captain,
Dolphin Survey Team, Drone Operator
Nang is the medium boat captain. He has been with us since he was 14. He is a caring, happy, honest and loving person, making him simply a joy to be around. If Nang isn't hanging out with the volunteers, you'll find him relaxing in one of our hammocks and boats, flying the drone for dolphin sightings, or playing a game of beach volleyball.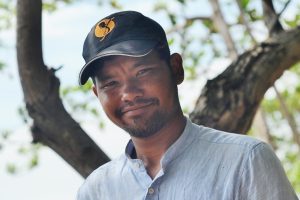 Krabi, Second Mate and Head of Maintenance
Dolphin Survey Team
Krabi is full of fun and laughter. On top of his duties as a dolphin team member, he ensures the island is in full working order. Any problems and Krabi will fix it.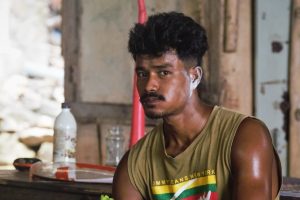 Tintin, First Mate and More
Dolphin Survey Team
Tin is Mao's older brother, Originally tasked with looking after the boats. Now he's an excellent Captain, He also has an Keen eye on a dolphin survey often being the first to spot them. Tins Bio is very short as he prefers to remain quietly watchful, though me know he's deeper than Keps Ocean.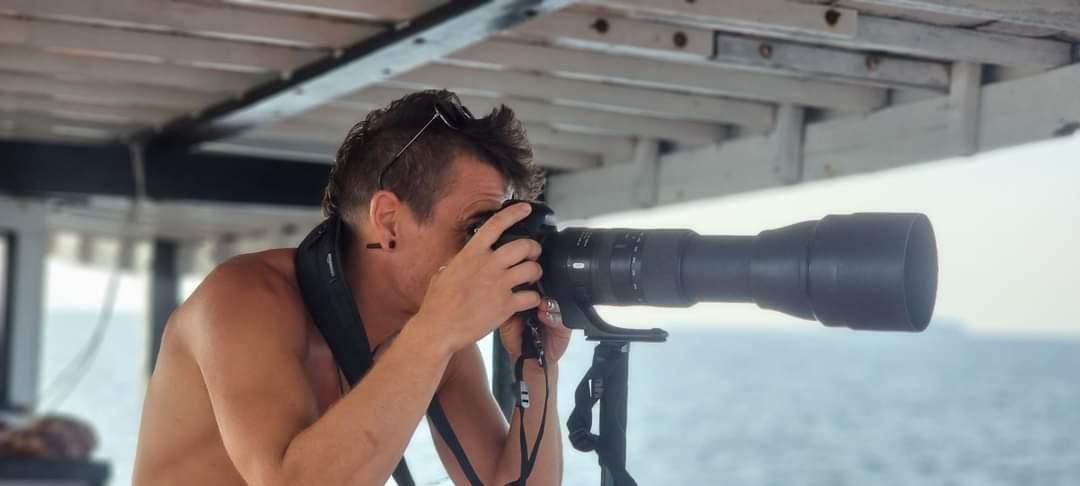 Adam Roberts, Marine Harvesting Network Project Manager
Adam has extensive work across Africa as a field guide, game ranger and field researcher and Previously working in Cambodia as conservation coordinator for the Elephant Valley Project,
He attained his MSc in Conservation Biology at the University of Kent, writing his thesis on conservation issues within marine protected areas in the Seychelles archipelago, and has 13 years in the field of conservation.
Here at MCC he is driven by the potential to utilise technology in the fight to stop illegal & destructive marine behaviours, protecting threatened habitats and species while sustainably preserving the traditional Cambodian way of life and income.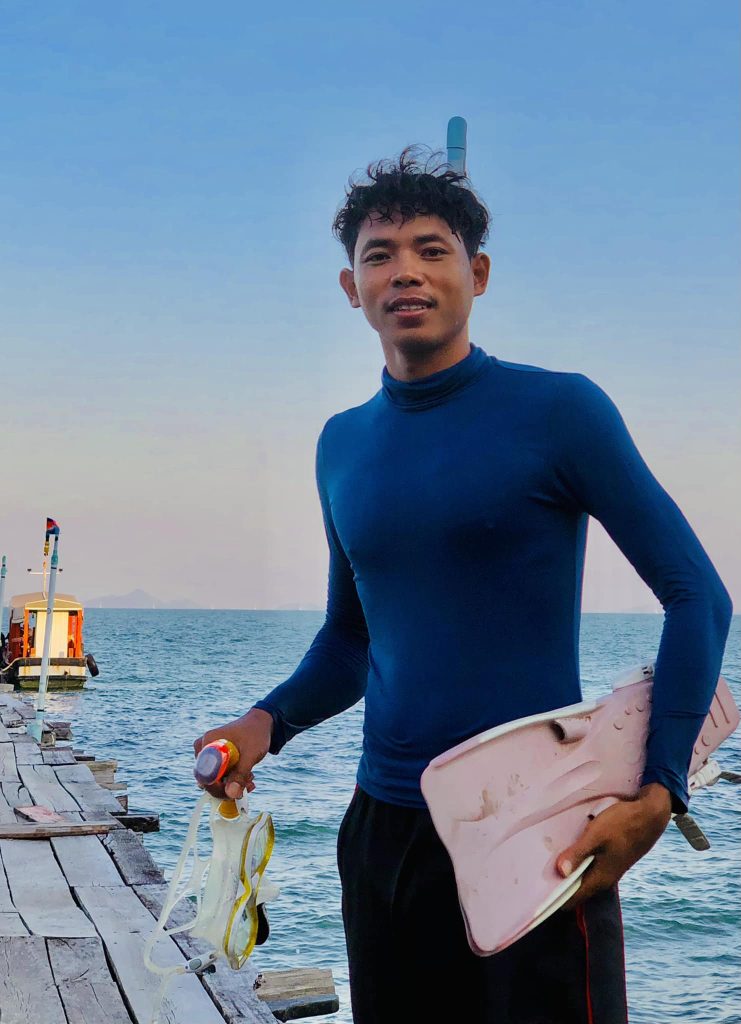 Kem Mean, Cambodian Dolphin Team Leader
I am a former student of Prek Leap National Institute of Agriculture, majoring in Forestry Science. I am working with MCC because I love natural resources, especially those that MCC is working to safeguard for the future. I want to contribute to the conservation of natural resources in Cambodia and for them to be sustainable for the future, as well as to develop scientific knowledge and research.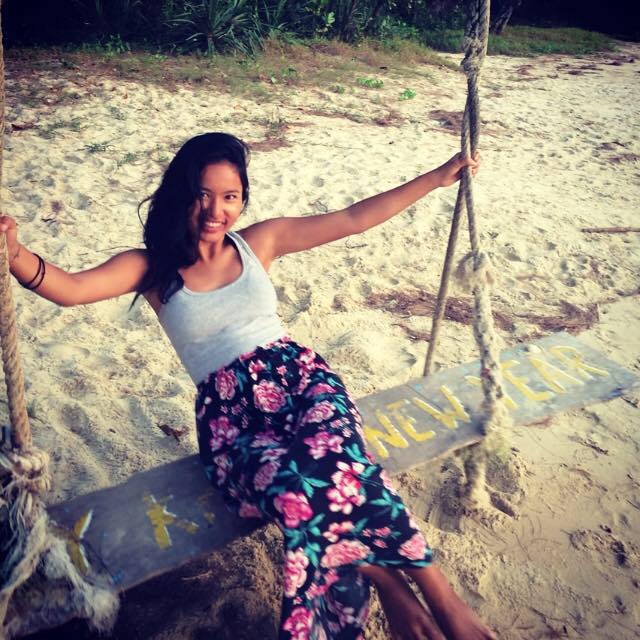 Sopheanie, Cambodian Dolphin Team Leader
After completing my bachelor degree in Environmental Science at Paññāsāstra University of Cambodia. I got such a great opportunity to be a part of the MCC family, which I wish to pursue my passion for nature and the ocean, in particular my special interest in dolphins and marine mammals. My goal is to learn more about the ocean, and in time pass on my acquired knowledge and experience to other students who share the same passion and wish to protect the marine environment.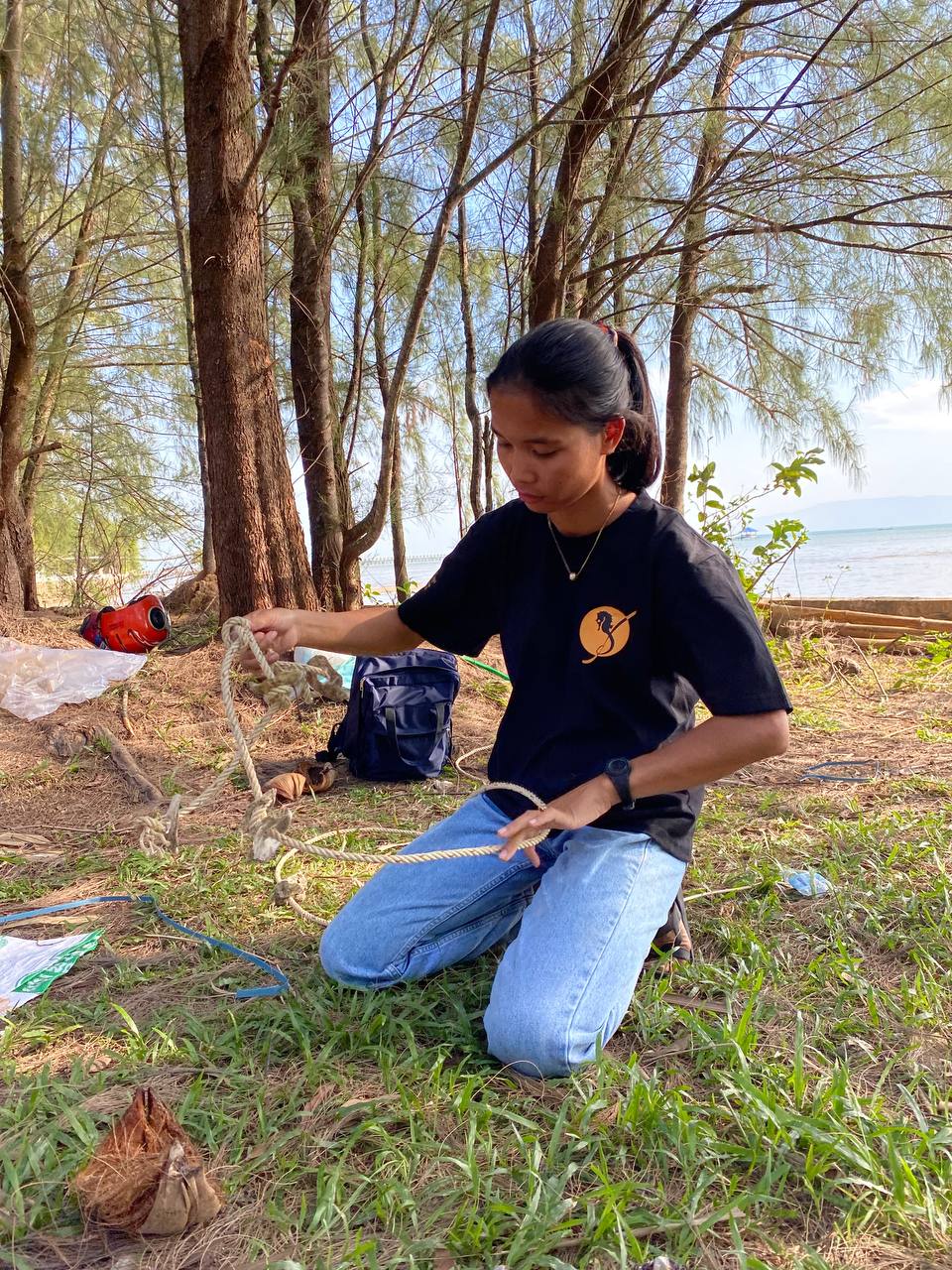 Tai Chen, Community Livelihoods & Oyster Project
I completed my bachelor' degree in Fisheries Science at the Royal University of Agriculture, Cambodia. Now I'm working in Community Livelihoods and Conservation in Kep and Kampot Province. I wish to pursue my passion for community and the Ocean, especially my interest in oysters and marine bivalves research and aquaculture. I set my goal to become a marine scientist to learn more about the ocean and find more experience to propose the other young generation and community who passion about the marine bivalves aquaculture and help to protect the ocean.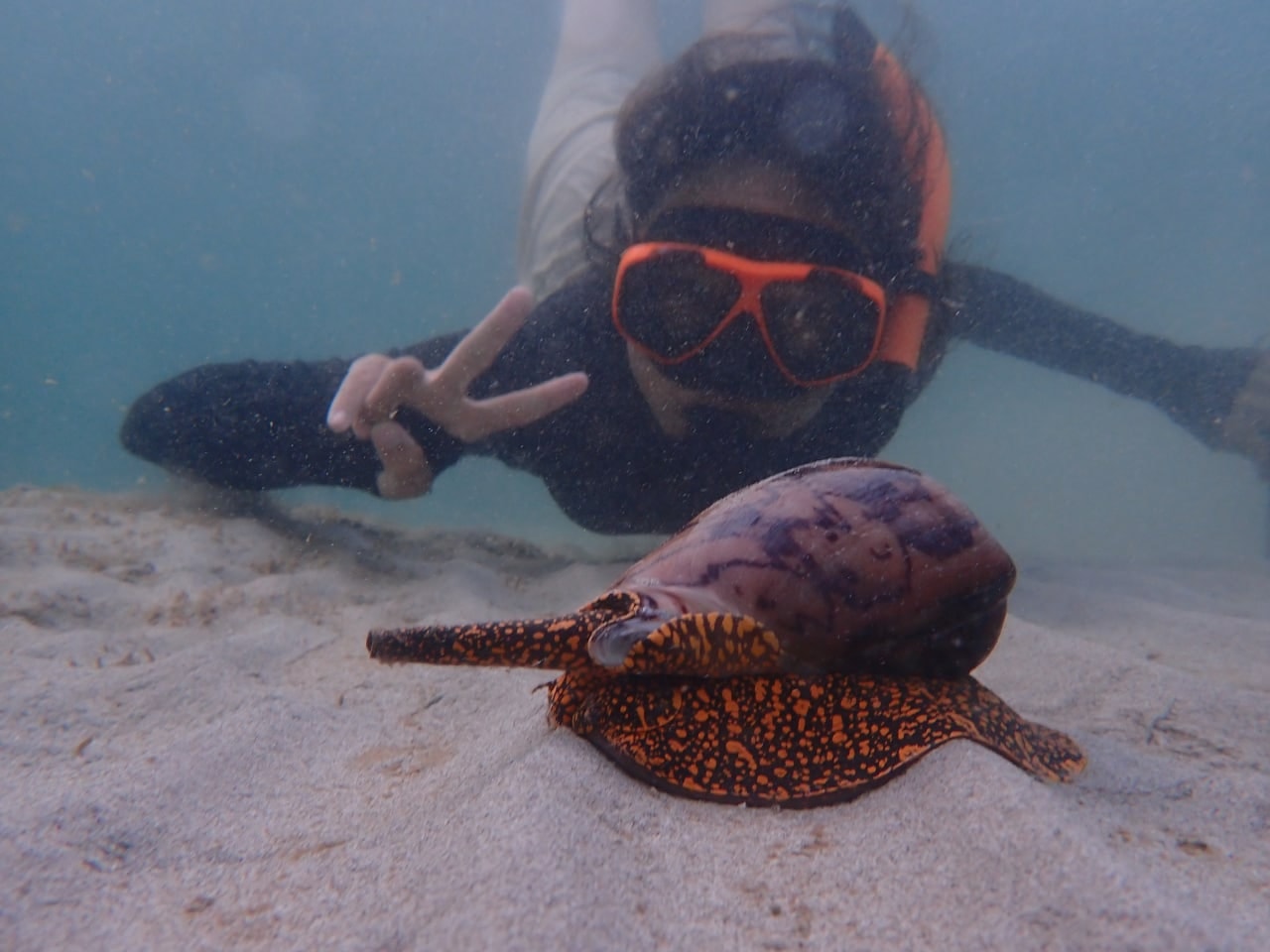 Samphors Lor, Marine Research Coordinator
I graduated from the Royal University of Agriculture, majoring in Fisheries in Science. I was doing my bachelor thesis on Seaweed Taxonomy around Koh Ach Seh with MCC. During the time I'm there I have been learning a lot about the ocean which is blowing my mind.
Currently, I am working as Marine Research Coordinator, and also run a seaweed project at MCC. Besides from seaweed project, I am also involved with many projects such as the seagrass, dolphin, CANTS project, and community livelihoods projects, and I am excited to be a part of these projects and also MCC's family.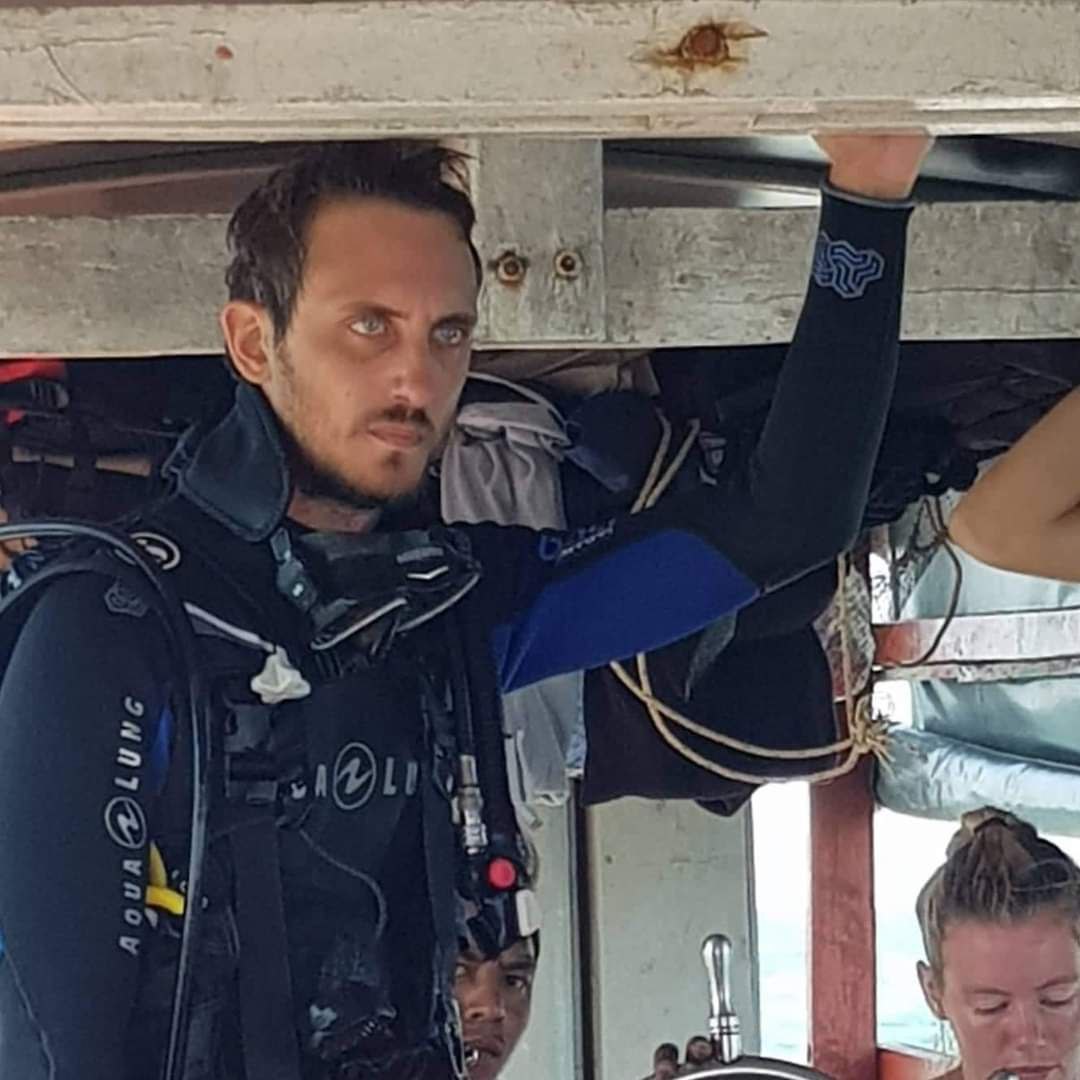 Simon Retif, Cartographer
I am the MCC GIS coordinator, and a professional diver. I use all the data MCC collects from each of its projects to make maps in a way that can be used for both reporting and adaptive marine management. When I have time out of the computer I am also involved in different projects such as the seagrass project, the CANT project and many more.
Keep this picture in mind because soon I'll be bald.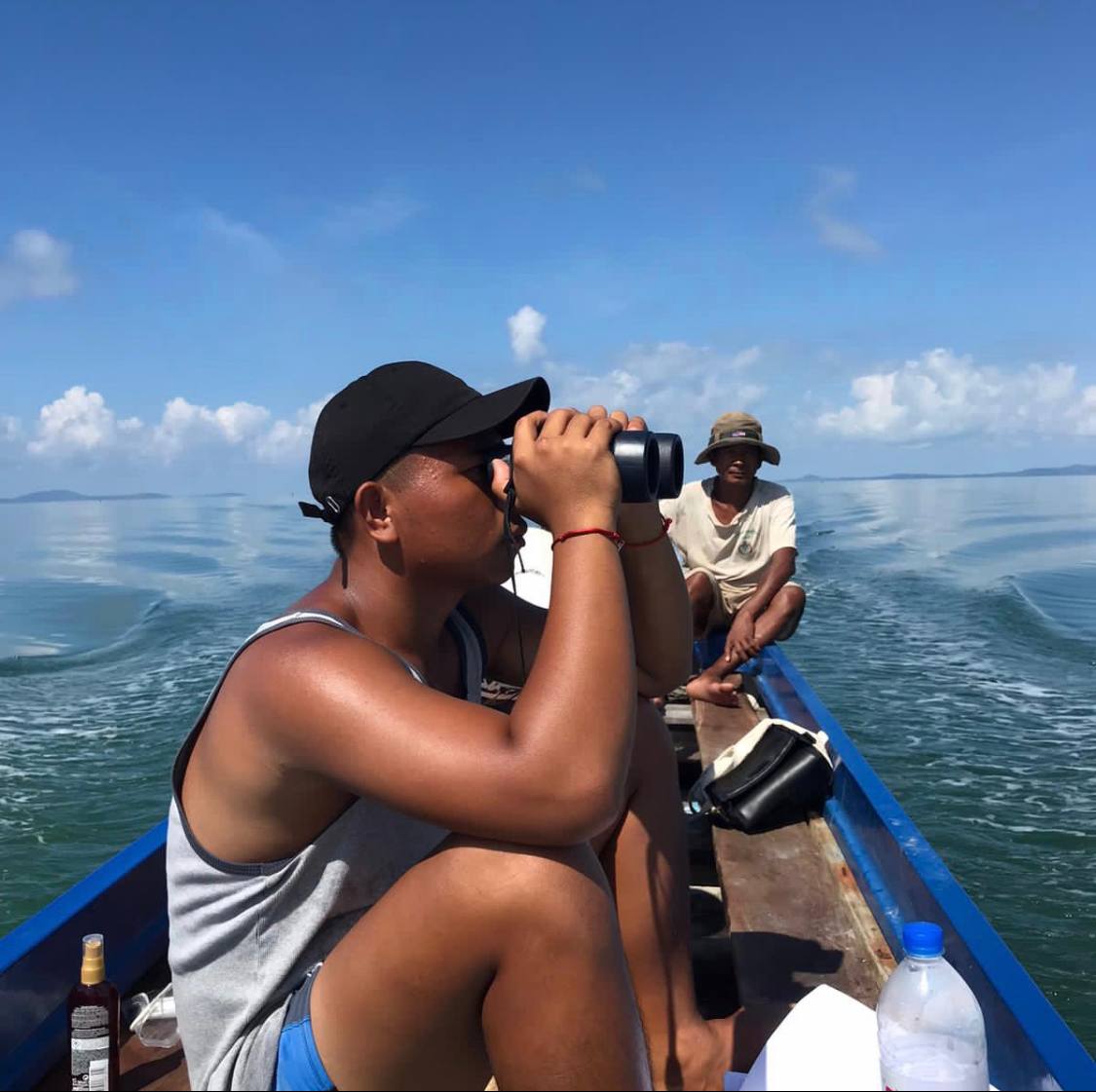 Heng Chhayhy, Cambodian Marine Mammal Team Leader
Heng Chhayhy is leading the Dugong Research at MCC
Chum Reap Sour, Chhayhy here. A person who is very enthusiastic about marine conservation, like I am at MCC right now working on marine mammal project. I hope what we're doing today will later be advantageous to the whole nation.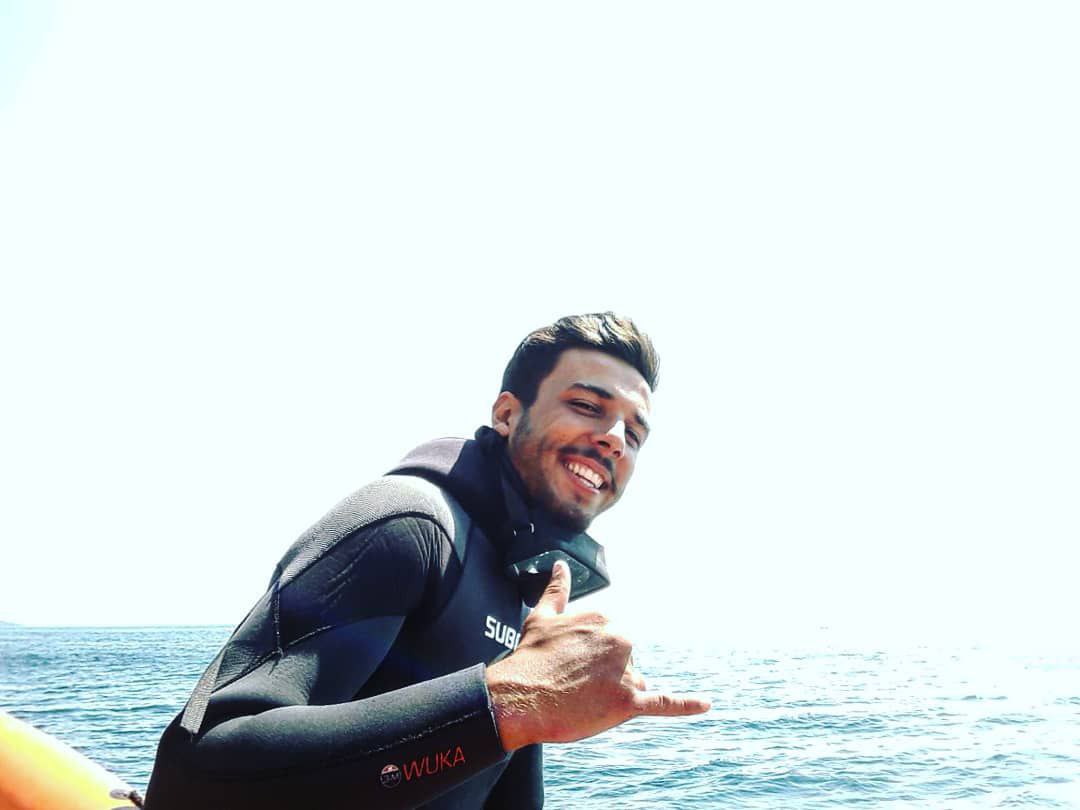 Goncalo Costa, Seagrass Team Leader
Hi there! I'm Gonçalo, a marine biologist from Portugal. I am the project coordenator in charge of MCC's Seagrass project – The Cambodian Seagrass Conservation Project (CSCP)
Seagrass is an unbelievable and unique ecosystem that stores more carbon than any terrestrial forest and we plan to fully map the once enormous seagrass meadows of the Kep archipelago while furthering their protection by contuing to place CANTS around the archipelago and ultimately evaluate their impact on wild restoration (which, spoiler alert, is already being felt by massive increase in seagrass populations!)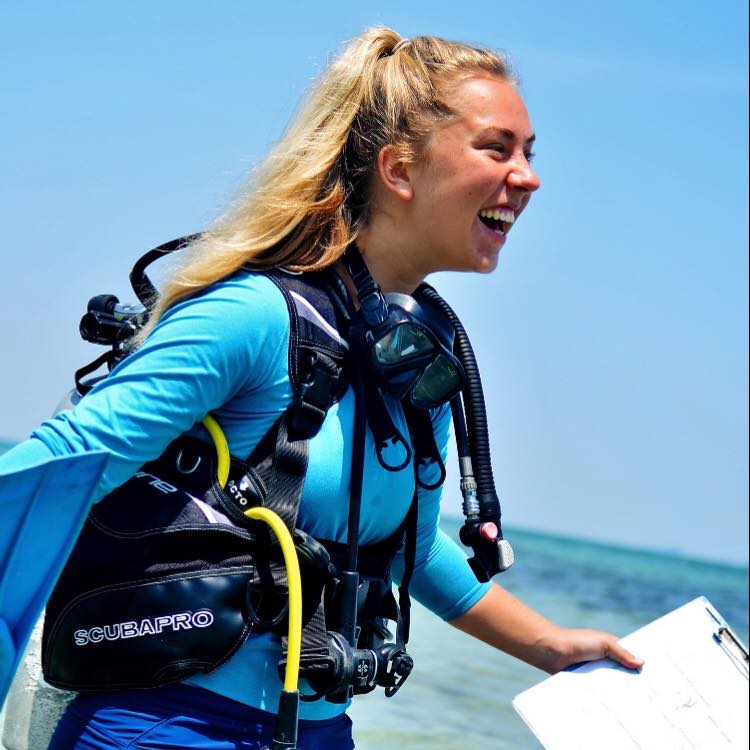 Amy Jones, Scientific Advisor MCC's Marine Mammal Program
Amy Trained our very first Cambodian Dolphin Researchers, she specialises in Dolphin behaviour, and with her strong science background she is invaluable to our MCC team