Conserving the Kep waters is only possible because of our excellent team. Scroll down to read more about our team members, or click here to check out our vessels and diving equipment.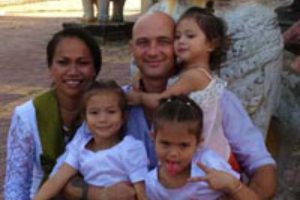 Paul, Sao and family, Founder
Every family needs a mum and dad, and those roles fall to Paul and Sao. Paul is not only the founder, but also the creator and fearless leader of MCC. Fighting alongside Paul is his wife, Sao. She is a strong powerful woman, who stands with him, supports him, and helps him turn MCC into what it is today. They have four amazing children together, Jasmine, Fern, Holly and Sienbe.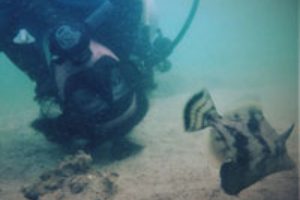 Rachana Thap, Executive director
Rachana first joined our team for her 6-month internship for her Environmental Science major at Pannasastra University of Cambodia. Rachana, together with three other interns, created the "Artificial Reef Team Project" for their final year project. She is now our amazing executive director. Passionate and determined, she is the future MCC leader!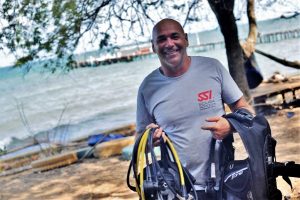 Billy Brebner, Diving Instructor
Billy describes himself as the village idiot who has found his village. More than our fantastic diving instructor on the island, his enthusiasm and wicked sense of humor keeps us all entertained and inspired. Reliable and all-round handy man, he is a much loved team member, the life and soul of any party, and the underwater champion.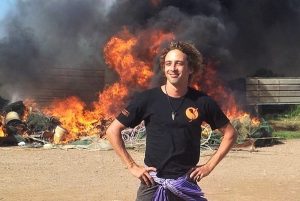 Amick Haissoune, general coordinator
Amick has been with MCC longer than most people can remember. His research focuses on the recovery of the archipelago's biodiversity. His first publication assessed the status of coral reefs and seagrass meadows in the Kep archipelago and highlighted the importance of continued monitoring and implementation of key legislation.
Rose Ellis, Project Coordinator of the CMMCP
Rose is passionate about marine research and community conservation. She first visited us while volunteering a few years ago and then went on to work on various conservation projects across the world, including elephant seals, bottlenose dolphins and orcas. Finding her way back to the Irrawaddy dolphins has been a dream come true and Rose is hopeful for the future with MCC.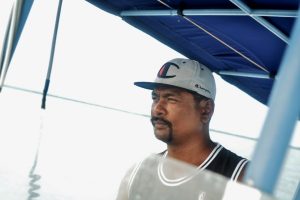 Phon, Speed Boat Captain and Head of Construction
Phon is a man of few words, but that doesn't stop him from getting involved and learning about the volunteers. Even with his limited English, it is easy to communicate with Phon. He is the speedboat captain, patroller, and the repairer of the many engines on the island.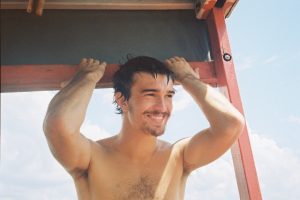 Tanguy Freneat, Financial Manager and Project Manager of the Artificial Reef Project
Tanguy studied Political Sciences at the University of Toulouse, France. When he's not underwater building artificial reefs he is busy on excel.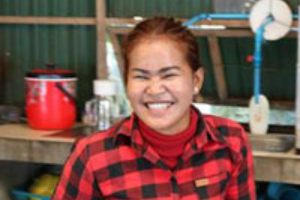 Mao, Chef and Kitchen Master
Mao works hard in the kitchen to provide the whole MCC family with delicious food. Besides making everyone laugh, she is also on hand to braid your hair, cover your cuts and keep the whole island in line.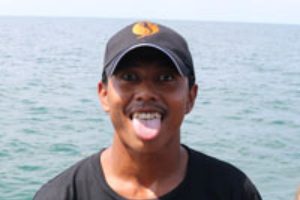 Samnang Ry, Medium Boat Captain
Nang is the medium boat captain. He has been with us since he was 14. He is a caring, happy, honest and loving person, making him simply a joy to be around. If Nang isn't hanging out with the volunteers, you'll find him relaxing in one of our hammocks and boats, flying the drone for dolphin sightings, or playing a game of beach volleyball.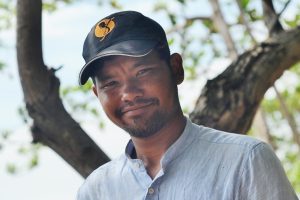 Krabi, Second Mate and Head of Maintenance
Krabi is full of fun and laughter. On top of his duties as a dolphin team member, he ensures the island is in full working order. Any problems and Krabi will fix it.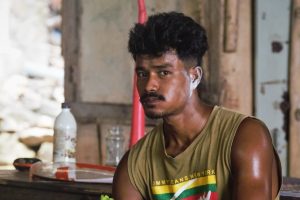 Tintin, First Mate and Maintenance
Tin is Mao's older brother, tasked with looking after the boats. He also has an excellent eye on a dolphin survey.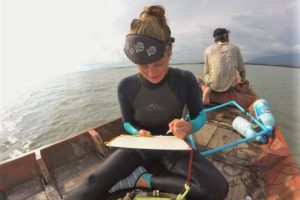 Alissa Böhm, Marine Harvesting Network Project Manager
Alissa joined MCC in 2018 to change the understanding of fishing effort in Cambodia and prove the extent of it in the Kep Archipelago based on scientific data. Her background is mainly in working for European NGO's and governmental institutions, but she specialised in conservation with her master degree at the university of Chester. Alissa is driven to preserve the unique marine world but also for sustaining income and food sources for the local communities.
Sarah Tubbs, Co-founder of The Cambodian Marine Mammal Conservation Project
Sarah is a marine mammal scientist, focused on the use of interdisciplinary approaches to conserve endangered species in Europe and Asia. In 2017, she launched "The Cambodian Marine Mammal Conservation Project". She works to conserve regional marine mammal species through research, outreach, capacity building and fund seeking.