Chiara Gambini – A Trip To Ho Chi Min – 12th November 2018
Hey guys!
Are you ready to read the latest exciting news from MCC?
Well, we had such an intense week. Two team members had the great chance to attend a 2-day workshop at the University of Science in Ho Chi Minh (Vietnam). The event was hosted by Mr. Long Vu and Dr.Cornelia Oedekoven, who came from the University of St.Andrews in Scotland. Mr.Long Vu is carrying out a project on the Irrawaddy dolphins (Orcaella brevirostris) in Kien Giang Biosphere Reserve (KGBR), the only location in Vietnam where Irrawaddy dolphins have recently been observed in their natural habitat. The project aims to provide critical baseline data on bycatch of Irrawaddy dolphin in KGBR. The specific objectives involve evaluating the magnitude of the Irrawaddy dolphin in KGBR, identifying areas that have high bycatch risk and to providing conservation recommendations to the management board of KGBR to mitigate bycatch risks. Given that the project is using distance sampling methodologies, Mr.Long Vu invited Dr.Cornelia Oedekoven, who is an expert in this field. The workshop started with an introduction to distance sampling: a statistical methodology that can provide data on Irrawaddy dolphin abundance. We were trained to use a specific software, called "Distance", which allows scientists to build up a systematic distance sampling transect design to get a more representative area of the focal marine mammal species. At the end of the explanation we practised with some excercises, trying to figure out how everything looked like and what we could achieve through this method. On the second day, Dr.Cornelia Oedekoven introduced us to Passive Acoustic Monitoring (PAM). Through the use of PAM devices, scientists can estimate cetacean abundance. To this purpose, the workshop continued with an incredible conference call from Canada. Dr.Tom Norris, founder and chief scientist of Bio-Waves Company in Encinitas (San Diego), showed us one of the latest hydrophones designed. This hydrophone, named MicroMars, is being used in Mr.Long Vu's research project. The workshop then came to an end. We really believe it was a great opportunity for knowledge exchange. Sharing ideas, concepts and problems with local and international scientists is always important. Our experience in Vietnam ended with a preliminary survey, looking for Irrawaddy Dolphins in Vietnam's KGBR. Unfortunately, due to the rough conditions of the sea, we didn't spotted any dolphins, but at least we could join Mr.Long Vu and his team on the survey, practising what we had learnt during the workshop.
The workshop was definitely an eye opening experience, and will hopefully lead to further collaborations between Mr Long Vu in the future. Even though the field research area always faces  some issues, such as weather conditions, boats availability and financial constraints, we truly believe on the importance of studying this endangered species, in order to provide meaningful data to the Government to implement the legislation.
We would love to thank Mr.Long Vu for inviting us and for being such a great host during the whole trip. A special thank goes to Dr.Cornelia Oedekoven for her precious knowledge and science background. She is the inspiring woman everyone in this field should follow. Besides the academic context, we enjoyed Vietnam with the great company of everyone. We couldn'ask anything better from the week and we are definitely ready to welcome Mr.Long Vu back to the island of Koh Seh!
Stay tuned guys! Other exciting news are coming soon..
Amy Jones – C-POD Redeployment – 20th August 2018
On the afternoon of Monday 23rd July, CMMCP met for a team briefing where we discussed the retrieval and deployment strategy for the C-POD. After kitting up at the dive shed, the team boarded the boat and headed off to the C-POD site.
Upon reaching the C-POD site, JD broke the surface and Sam and I followed, after a short swim to the demarcation buoy, we signalled to the boat and began the descent. Despite the 30cm visibility, Sam and I managed to undo the jumble of knots used to the tie the C-POD to the artificial reef blocks, while JD filmed the process.
After approximately 3 minutes, we'd released the C-POD from the reef, resurfaced C-POD in hand and signalled to the boat. On arrival, we carefully passed the C-POD up to Sarah on the boat, while Josh gleamed with excitement in the background. The boat quickly delivered us back to the pier where Michelle and Josh began vigorously cleaning the C-POD. Michelle was born to scrape barnacles from a hydrophone with a butterknife- fact!
After scrubbing off a month's worth of bio-fouling, Sarah and Josh instructed the team on how to safely remove the SD card, replace with a new one and reset the recording system. Once reset, the team boarded the boat once again in anticipation of redeployment. JD, Sam and I descended to the C-POD site, secured the C-POD to the blocks with an excess of knots and resurfaced few minutes later ready to be collected by the boat.
On return to the island, Josh had already begun disseminating the audio data  – the boy was grinning so widely, I don't think even an orthodontist has seen that many teeth! After a successful month of acoustic data collection, we can't wait to hear what the coming month brings!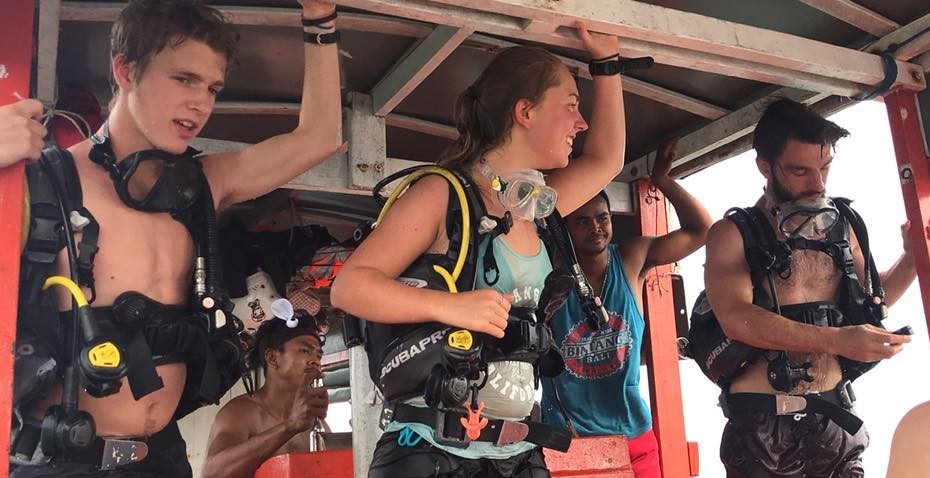 Josh Wilson – Searching for Irrawaddies – 18th July 2018
The first Irrawaddy dolphin I've ever seen, and it was just a flash of a dark grey fin that disappeared from sight within seconds. That same boat survey, I'd see my next group and it would be 8 dolphins just resting below the surface. To be honest, I was super excited to see these amazing endangered animals in the wild, but a small part of me thought this might be my entire experience here – either flashes of something that disappears in seconds, or watching them doze about in the morning sun. I was very wrong and it would only take a week to find out. Sure, the next survey would bring a couple of these sightings of solo dolphins hiding below the waves. However, it also brought some incredible moments that showed that this species might not be seen spinning through the air at breakneck speed, but they were incredible to watch in their own slow and clumsy way.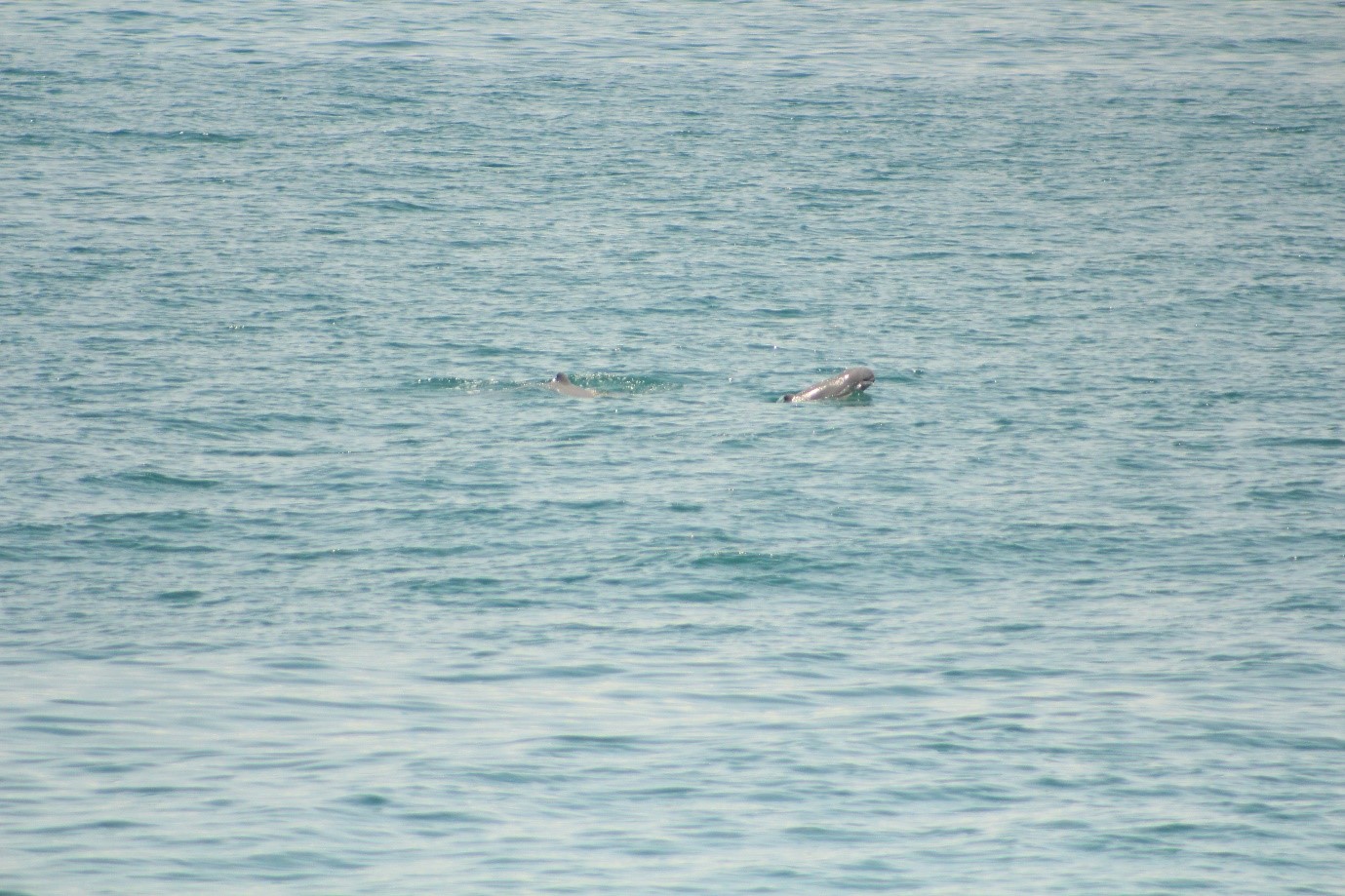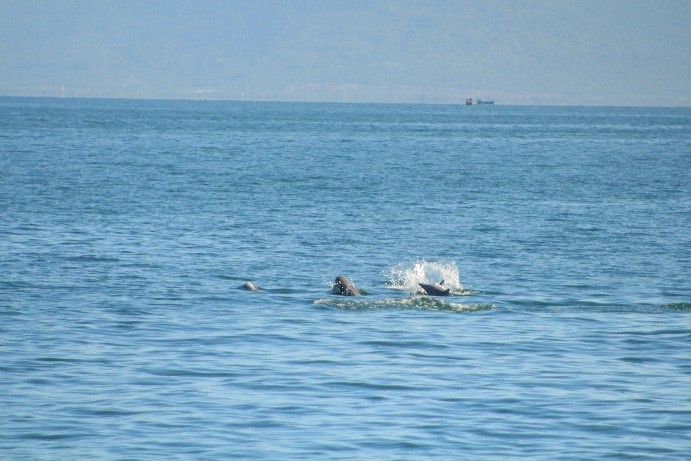 When you catch a group of Irrawaddies travelling or socialising, you get to see their true playful nature. They breach out of the water to show that trademark smile and tail slap the water, putting on a show. I'm not going to pretend they're the biggest fans of boats, probably thanks to their quiet nature years of trawling they've endured around here, but if they let you watch, you can tell they aren't just shy and reserved. In three weeks, I've seen them bursting through the water in twos and threes, making a massive splash with their flukes and bodies and spinning around upside down in the water, which is cooler than it sounds. They're not a species I'd given much thought before I joined the Cambodian Marine Mammal Conservation Project, but they've made me appreciate all the lesser known or quieter species out there, including a hometown species for me, the harbour porpoise.
Sometimes I give the bottlenoses and spinner dolphins all the glory with their acrobatics, but the Irrawaddy has a quirky charm that can't be matched. They keep to themselves for the most part, but when you really try to understand these animals you get to see that they're truly social and intelligent animals. I hope I'll see plenty more in my remaining three weeks here, and I hope it won't be the last time in my life I see them either. There's no sight quite like the smile of the Irrawaddy jumping from the ocean, even if they are a little funny looking sometimes.
J.D. Pruett – My mom has always said I was spoiled. I finally agree.- 7th July 2018
Wednesday night when Sarah reviewed the protocol for "when we see dolphins" on Thursday's boat survey, the rest of the Dolphin Team, myself included, scoffed at her confidence. In retrospect, I suppose we should have had more faith.
We were greeted by a gorgeous sunrise and from there it only got better.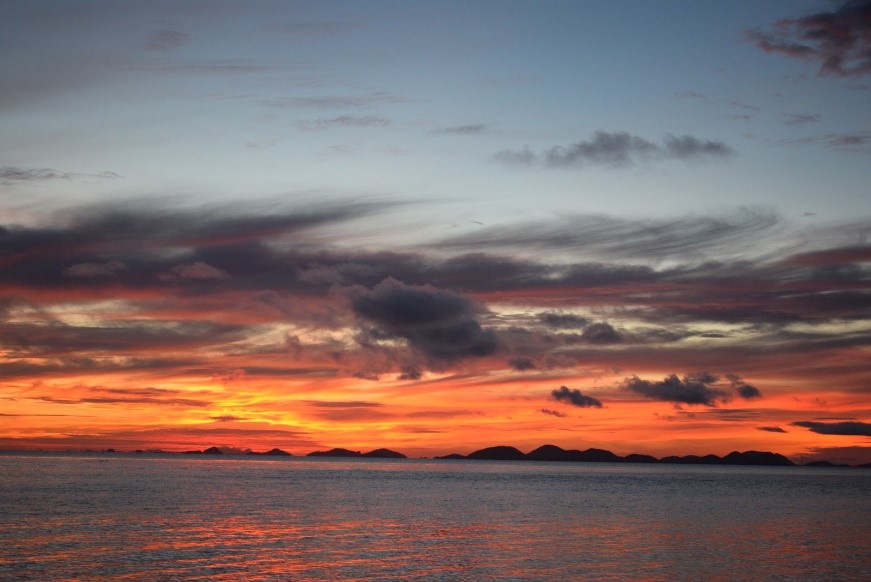 The first 45 minutes of tense, focused silence was broken by Amy's first sighting: "yeah we got one." The "one" turned into a small pod and everyone sprung into action. Behaviors and group types and angles flew around as Josh and Michelle's cameras snapped and Neyda furiously filled in line after line of data. After having spent a number of hours training with whiteboards and flash cards, it was rewarding to see those diagrams come to life in the water.
The real marvel came on the return of our Kampot route when Josh got his second spotting of the day (atta boy josh). At first there was just one pod of 5-7 Irrawaddys. Not long after, a second group emerged 100 meters away which then split into 2 smaller groups. Soon enough we found ourselves surrounded by teams of dolphins, sending the photographers running from bow to stern not knowing which way to turn.  
The groups eventually merged to form a spectacular show of 11-13 dolphins with a few juveniles mixed in: quite the treat.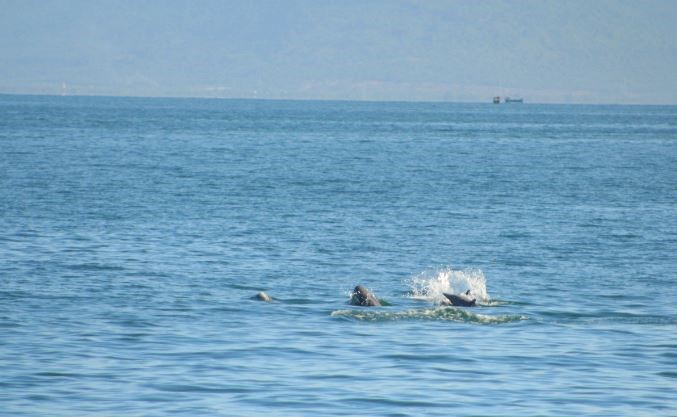 More than just enjoying the dolphins, it was important to see how much work  goes into learning about our world. It led me to think of the massive amount of information I've read in textbooks or otherwise, knowing that someone somewhere spent hours earning the right to that new little byte of knowledge.    
Moreover, when spending hours looking for even just one dolphin, every time they surface it feels like a privilege – like they've decided to let us momentarily observe before they're gone, utterly uninterested in us and our mission. These brief moments are humbling as they remind us that we do, in fact, share this planet with creatures other than ourselves, a sentiment that moves our own little egocentric worlds out of the center of importance – where they so often reside – and into perspective.
By the end of the survey we tallied a total of 7 sightings, took over 2,500 photos, and filled 27 lines of data – not too bad for my and Michelle's first survey. My mom has always said I was spoiled. I finally agree.
Augusta McGuinnis – Digging up a dead dolphin: cleaning the carcass – 14th June 2018
We all gathered around the grave to receive a briefing from Sarah Tubbs, chief dolphin excavator, at 3pm. The plan was to set up separate stations for the unearthed dolphin bones to be washed, dried, drawn, numbered and finally, assembled. Jasmine and I were tasked with the cleaning and drying of the bones. The plan was to start with the skull and to work our way down the skeleton one at a time to make identification and assembly of the skeleton easier.
We filled two red buckets with fresh water (one for scrubbing and the other for rinsing) and laid out old pillow cases outside the dive shed. Latex gloves on, tooth brush in hand and sat in front of our buckets, we anxiously waited for the first bone. After hearing shouts of success, I was handed the what was said to be the jaw bone and informed that the body "hadn't decomposed as much as hoped". The smell wasn't pleasant, and the bone was accompanied by a mixture of clay and rotten flesh sludge. However, I was loyal to my post and found satisfaction in removing the grime from the little bones given to me.
The skull… was horrific, and it wasn't just the skull, there was very much semi-decomposed brain still within the structure. The effluvium emanating from it brought tears to my eyes, and repelled spectators, who watched excitedly from a safe distance. The tooth brush quickly became redundant, so I resorted to forcing the stewy substance through the small crevices and cavities with my fingers whilst trying to supress involuntary gags. Once clean, you could see the beautiful mixture of creamy white, stained brown and speckled surface of the bone. I was told that these variations were because of the dolphin corpses' position in the ground which caused different rates of decomposition. I could have sat and inspected it for longer, but the smell was unbearable, and it still had stubborn gunk inside the skull, so I handed it onto the next team with a smile.
The bones just kept on coming, and it wasn't long until the last vertebrae of the dolphin was washed, drawn, labelled and positioned. The Irrawaddy dolphin skeleton was finished, and we all spent some time inspecting it with a sense of pride. Despite the smell, which I hope to never ever experience again, I am proud to say that I have cleaned and inspected every bone of a unique, and unfortunately endangered dolphin species. Although, maybe next time I'll volunteer to simply assemble the bones.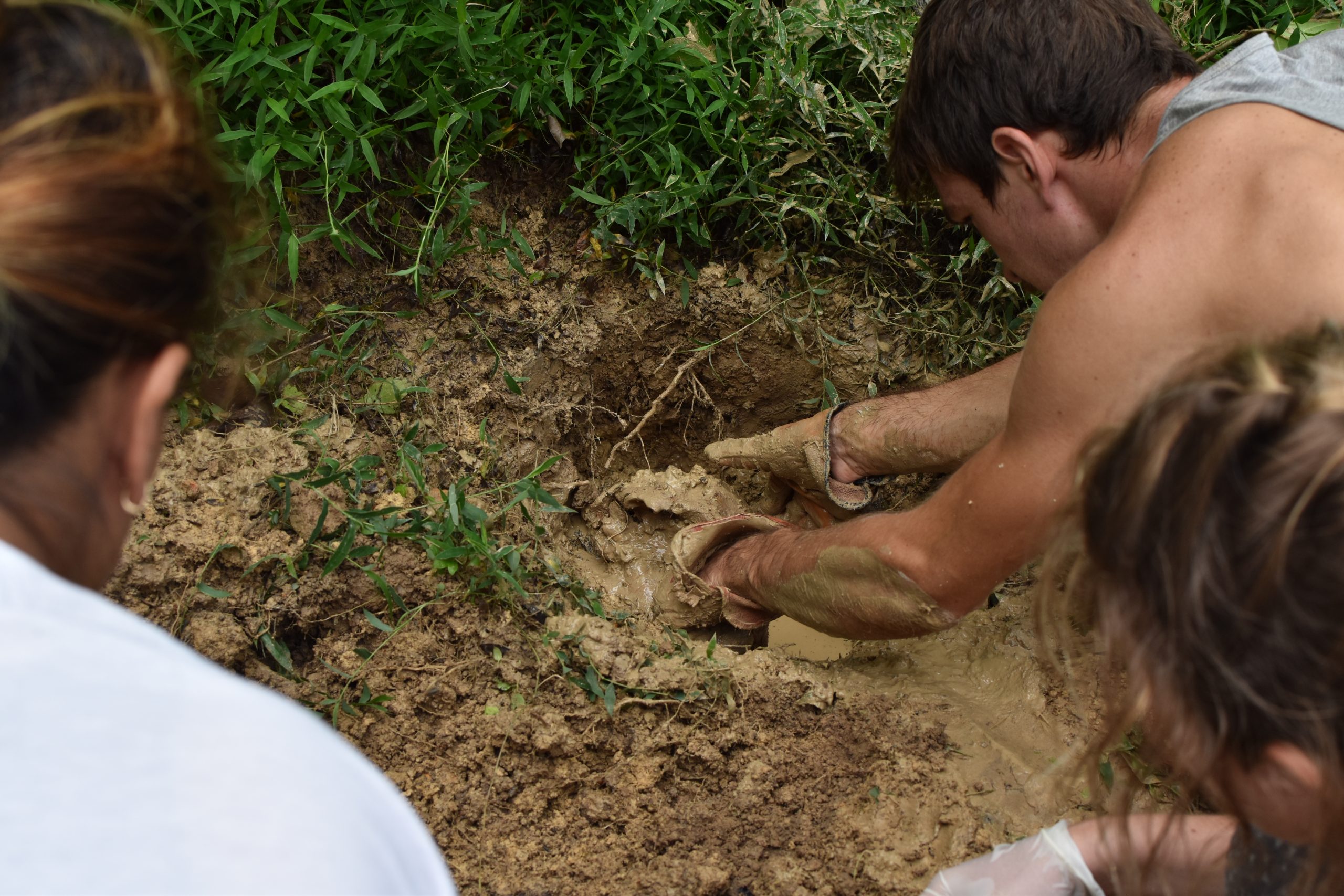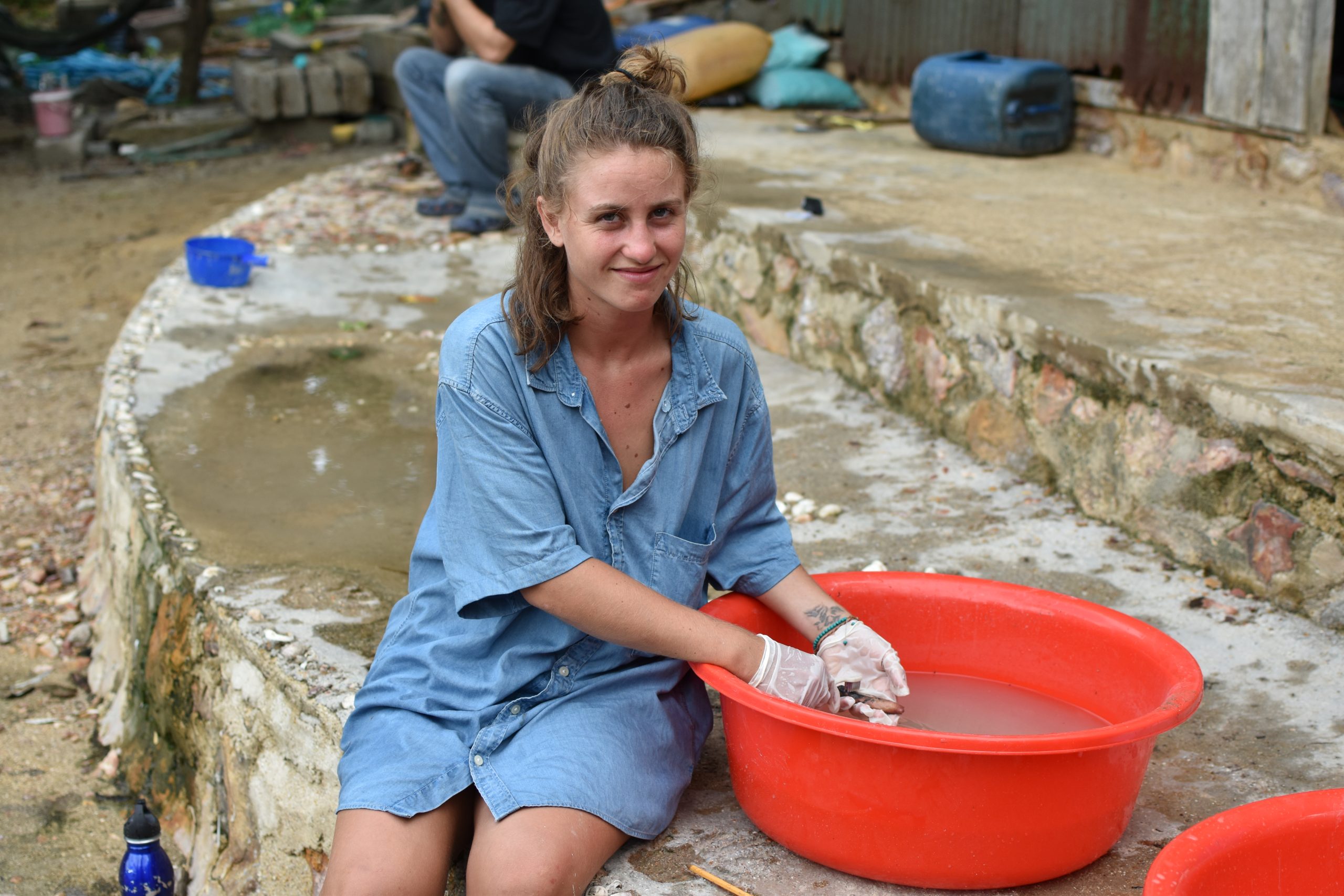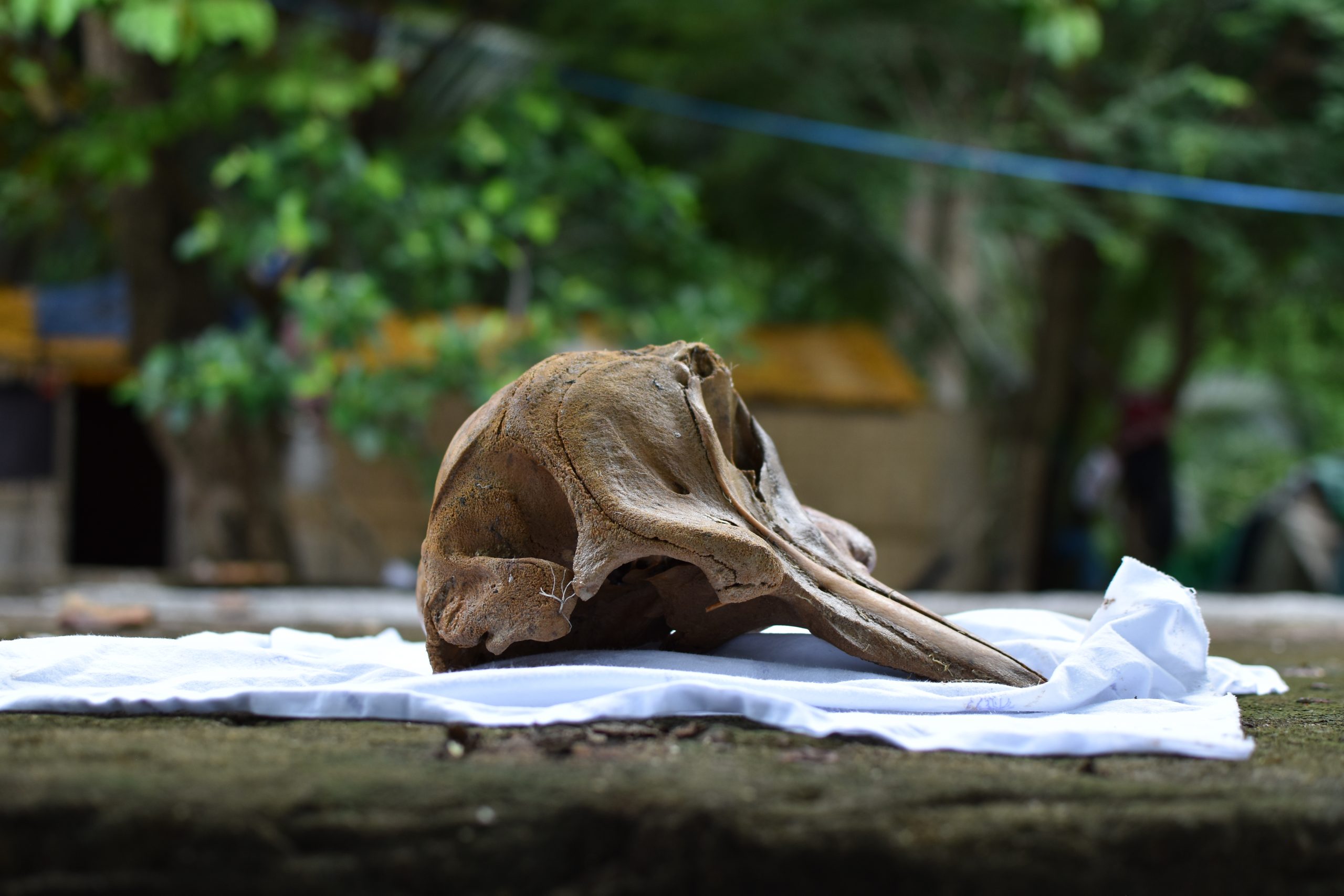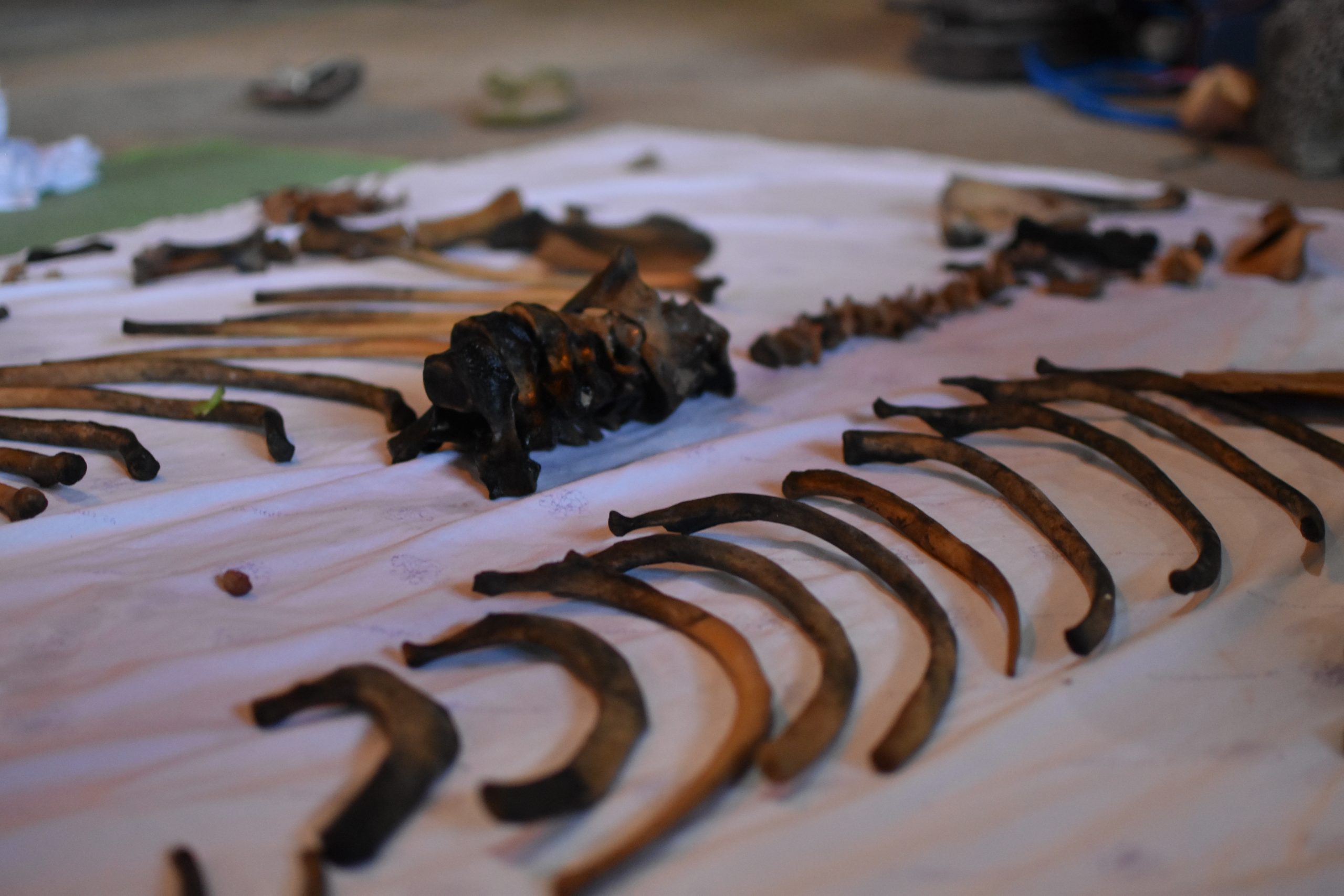 Gabrielle Côté – My First Week – 30th April 2018
Hi I'm Gaby! I am a 19-year-old student from Canada. I initially decided to join the MCC volunteer staff as part of my final research project for Cegep. Having always been interested in marine biology, I thought this internship would be a great learning experience before I start my Marine Biology bachelor back home. Furthermore, the MMC Marine Mammal project, on the forefront of research on marine mammals in Southeast Asia, seemed like the perfect project for me.
My arrival on the island was very eye opening. Directly witnessing the effects of trawling, pollution and other industries like tourism, on the marine ecosystems was a very humbling moment. However, it is undeniable to say that MCC is bringing hope to the archipelago. It is amazing to see how, after only 5 years, life is coming back. The staff works very hard everyday to try and stop trawlers and save the marine ecosystem.
After only a week, I have experienced 2 dolphin boat surveys, some snorkeling around the island to find sea horses, block deployment, beach cleanups and much more. Dolphin surveys are often done in the morning or during the evenings, due to the high peeks of dolphin activity. In short, a group of volunteers either goes to the dolphin observatory on the island or on one of the boats, and searches the water for dolphins. The most rewarding part of it all is especially when dolphins are seen. On our last boat survey, we got to see a group of Irrawaddy dolphins. It was amazing!
I also got to see seahorses on our afternoon snorkel around the island. MCC has been recording their population regrowth for the past years. It is incredible to see this direct impact of their work here in the Kep archipelago. The variety of sea life you can see here is just amazing. From the gigantic corals that bound the island to the south to the large beds of sea grass on the east side, the marine scenery is changing day by day, slowly taking back it's rightful place.
Coming here, I have experienced a beautiful country, a joyful culture and a motivated an determined staff. Seeing the impact and all the inspiring work that is being done by MCC has grown my initial interest on marine life into much larger aspirations. During my month here, I hope to gain much more knowledge about marine conservation, all the while helping with the Marine Mammal surveys and any of the other amazing projects that are being completed on the island.
Lucie Bennett – My Island Arrival – 21st November 2017
I'm a third year BSc Ecology and Environment student from the University of Sussex in England. I'm an aspiring conservation biologist hoping to go into the conservation sector after graduation, currently on a placement year with my university which I have decided to split between working with corals in the Seychelles, working here in Cambodia and working in Madagascar with reef fish. I will be with Marine Conservation Cambodia for a total of seven weeks working on their brand new 'Cambodian Marine Mammal Conservation Project', the first long term study of the Irrawaddy and other dolphins in Kep archipelago where marine biodiversity is heavily threatened by trawling.
So far, I've lived on the little island of Koh Seh for two weeks and have loved experiencing the beautiful beaches, jungles and wildlife. In the early mornings, the sunrises from the main bungalow are the perfect way to start the day and on the other side of the island you can see stunning sunsets. I've very much enjoyed snorkelling on the reef right on our front doorstep and I look forward to exploring the other reefs around the island. The people here on Koh Seh are a great crowd and are committed individuals passionate about saving our oceans. Paul, Sao, Amick, Carney and all of the other volunteers before and at present have done a fantastic job of making the island a home and continue to do so.
I've undergone the dolphin survey training and already participated in five dolphin surveys, one from the newly constructed 'Blowhole' lookout, two from an excellent viewpoint on the mainland and two from the boat. Unfortunately, I haven't yet seen any dolphins (perhaps my arrival scared them away), but I have every faith they will make an appearance once again. I have also participated in a beach clean here on Koh Seh, done dolphin data entry and helped to write a short news article for the Cambodian Journal of Natural History about the Cambodian Marine Mammal Conservation Project. In my spare time, I've really enjoyed exploring the little town of Kep, as well as seeing some of the sights in the areas such as the Kep butterfly garden, salt fields and some of the many caves.
During the rest of my stay I would like to continue to participate in the Marine Mammal Project (and hopefully see some dolphins!) and I would love to undertake the seahorse and fish ID training as well if possible! I would also like to explore mainland Cambodia before my return to England at New Years.
Carney Miller – First Boat Survey: And Its Just the Beginning -24th October 2017 
"Wake up, it's time to go hurry up or you'll be late come on", you wake up and check the time: 5:48AM, the alarm on your phone has attempted to signal you 3 times already (you forgot to switch off silent mode), luckily you've got little sisters.
You arise out of bed, to see them rush out door bright eyed and bushy tailed, then it hits you what day it is, wonder and excitement strike your body like a bolt of lightning, you spring out of bed get dressed and hurry on down to the pier.
5:52AM: Arriving at the pier you notice a boat load of people eagerly waiting on the pier, as the boat docks at the pier you notice that not everyone has gathered there yet, so you can reduce the speed you're travelling at and take the haste out of your step, ah… that's better much more relaxing, as you're walking down the pier you can't help feel like you're walking in a dream. Gazing down at the water it looks so calm and tranquil, a lovely piece of serenity, on the left hand side you see 2 small schools of Mullet accompanied by a mixture of small halfbeaks and Crocodile Needle Fish, on the right you notice two separate patches of sea grass Thallassasia Hemprichi and Enhalus Acoroides, above the sea grass is thousands of Robust Silver Sides and a few stray Mullet.   
5:55AM: You approach the roughly halfway mark on the pier, as you gaze up from the ocean you say good morning to the boat captain as he passes by you (probably to freshen up) bloody beautiful, this means you can take even more speed out of your movement towards the boarding of the boat and immerse yourself in the breath taking beauty of the scenery right in front of your face, various species of Hard Corals seemingly share the reef with large carpets of Zoanthids, (in reality the hard corals are slowly taking the reef back from the Zoanthids after they settled on the rocks first protecting it from an algae invasion, talk about a picture worth a thousand words), on the corals there is an abundance of life, rock crabs scuttling around searching for food, Trocus' and Turbo shells munching the algae from the rocks, the corals themselves extending out their polyps to catch those first rays of sunlight and performing photosynessis, thanks to the symbiotic relationship they share with a type of zoanthaelle algae, fortunately the visibility is clear enough to peer into the underwater world without physically entering it(could be a coincidence but, it's possibly from the absence of trawling for the past 3-4 weeks)         
5:58AM: As if awaking from a lucid dream, you hear faded talking in the distance you, look around behind you, you recognise two late stragglers approaching just to arrive on the agreed upon time, looking straight ahead everyone is patiently waiting on the boat to take a journey and step into an exciting new adventure, one last stare as the corals come to an end, you notice Blueline and Chocolate grouper, waiting with great poise on the side of rock faces anticipating their next meal. Off the reef the oceans floor has some colourful sponges, a few Chocolate drop Sea Stars a lone Volute Snail, shifting your attention higher up in the water column, its pure jaw dropping there's more fish then you can fit in a net, 4 large schools of Crocodile Needle fish, each with more than 40 fish, countless schools of different types Sargent Fish, Scat fish, Rabbit fish, snapper, well that was a truly celestial way to start the day, and that's just the beginning.
6:00AM:  You're on the boat right on time there was a small amount of doubt that not everyone would be able to congregate here at the set time but, you crushed it, kicked out doubt, yea that's what MCC is all about, you take a seat on the boat with your 13 comrades,  the boat captain, does a final check: you have on board, a hot water bottle, 14 boiled eggs, 2o packets of noodles, 3 pairs of binoculars, 1 data recordation sheet, with pen and 14 abled bodies. You are all set to embark on your journey. (WHERE TO YOU MIGHT ASK DOLPHIN SPOTTING!!!!!)
The boat leaves the pier and gently floats across the sea toward a much larger boat this is the actual Boat you will be embarking on, lucky… there isn't much space on this boat it's just a passenger ferry, the boat moores alongside the monstrous boat, (this larger vessels looks like it could transport nearly 100 people), fortunately today its only got a small crew so we have plenty of room to move around and discover a nice vantage point. Everyone negotiates their way on to the boat, effectively and collectively, helping the small people and grabbing the supplies making sure you have everything and everyone, the other boat detaches and heads back to the pier, this boat, has a large upper deck area with an open and wide view, almost like a desired viewing platform, 
6:05AM: This is it everyone is ready some people went to the lower level but, you climbed up the wooden ladder and arrived on the upper level sharing the large space with several other keen pioneers, the boat leaves with its team of scientists, raring to experience new beginnings, there is one trained expert (Team Leader) on the boat so all consultations and queries goes through them, (whilst the rest of you are fresh into the field ready to learn and put your knowledge to the test), the Team leader designates a single person to record the conditions: the Beaufort, (or sea state today is  recorded as a 1, its almost completely still but, has the slightest amount of ripples), the Cloud Cover(Due to the fact cloud cover is only recorded in multiples of 20%, at the moment the group agrees the coverage to be 60%),lastly recorded is the Glare (the Glare is only recorded if it covers more than 20% of the entire ocean, since the sun has barely risen above the horizon, its recorded as 0), these 3 Environmental Conditions are recorded every hour unless, there is a dramatic change in any of the conditions, then the time is recorded and all 3 Environmental Conditions are also recorded and then you proceed to record those Conditions every hour as follows.
6:07AM: The sun is hugging the horizon like a child pulling a blanket up to their eyes to watch a scary film, just the very top of them is visible, the ocean is calm but, not completely still there's occasional ripples disturbing the glass like texture of the water, as you look around the ocean seems to be endless, until your eyes eventually meet land, straight ahead the direction you are heading, north you see several Cambodian islands, out to the east you find Vietnam, behind you south is still classified as Vietnam, and out to the west it's seemingly endless, similar to a giant bed sheet stretching out as far as the eye can see, covering the underwater world that is literally beneath your feet, the boat is travelling at a steady 6N/H , (the recommended speed of travel is between 9-12N/H but, the team leader has made an executive decision to remain at this speed for today's conditions) the ocean gently parts and looks like when someone firsts takes a butter knife to a new tub of butter and slightly spreads off the top layer, as the boat continues on behind you the ocean recollects itself and appears undisturbed, fortunately you can see if anything breaks the surface of the water and decides to say G'day mate!
6:12AM: The team on the roof have divided the area evenly amongst themselves so that every stretch can be effectively surveyed, 2 people are stationed at the back of the boat watching behind either side, 2 people are positioned in the middle viewing left and right of the boat and 2 people are on guard at the front looking straight ahead, two people have binoculars and the team leader has a pair for executive purposes, the rest of you are equipped with the naked eye, a few people stand up eagerly watching waiting, whilst the rest are in in for the long haul and find a comfy position, sitting or leaning in anticipation for a stake out. The survey began at 6:07AM but, until there is an actual sighting nothing is recorded other than the Environmental Conditions but, when there is a sighting the activity is recorded every 5 minutes after unless there is an absence in the presence after the following 5 minutes, if this happens the recordation continues on the next sighting.  
6:33AM: This is it you've done it! You spotted a dolphin you are sure of it, there has been several times in the past 20 minutes you had a belief of a sighting but, you kept it to yourself, (the sea is a cruel mistress, she has the ability of an illusionist playing tricks on your mind, waves look like dolphins, dolphins looks like waves), (it's the same unison with seahorses but, that's another story), with some hesitation, you eventually shout "DOLPHIN!" "Over there next to the fishing buoy, out to the east" everyone ceases what they are doing to view the spectacle, the team leader specifies that: if you are to approach the creature, "you must not alter the current speed, because any sudden modification to the speed, will send a different vibrational signal through the waves that can disturb a cetacean" you managed to locate a lone cetacean(possibly a dolphin) rising above the water displaying its back and submerging back into to the water, the team leader congratulates you and says great job, the rest of your team on the boat gives you a congratulatory applause followed by a metaphorical pat on the back, as we gradually reduce the distance toward the sighting, something feels a miss it's too perfect the shape hasn't changed position but, has continued the action of diving. (wait a minute you stop and have a little think about this, a little black shape 300-400 metres away emulating the resting behavior of a dolphin, it's a possibility?) But, as the boat approaches maintaining a smooth 6KN/H the distance between you and possible sighting decreases more and more till, you realise you've been alluded BUGGER! Sure enough, you eventually arrive within 100 metres and sadly enough to the research teams disbelief it's just a piece of ocean debris, a large piece of black foam, that has become entangled amongst a fishing buoy, that's some spirit shattering experience but, you won't be kept down your motivation can not be steered off course by a small wave in the ocean, ahead in the distance you catch a glimpse of 3 fishing vessels.
6:40AM: The 3 fishing vessels you spied earlier are now within picturing distance, this action is taken because these boats are in fact illegal Vietnamese electric push nets, capturing their image is helpful for deterring the illegal activity, (that occurs inside the borders of Cambodia), as the large research vessel you and your team of researchers are stationed on, continues on the agreed survey route, the 3 Vietnamese boats believe they are in a spot of bother due to the fact that, the boat you happen to be standing upon is one of the leading lines of defense around the Kep archipelago, against the Illegal, Unregulated, and Unreported(IUU) boats,(when it's not being used for scientific research) imagine a house party being crashed by your parents, they leave if in a scurrying panic, the fishers haul in their catch pulling up their giant nets full of helpless marine creatures and possibly more by -catch then animals they can sell for a cheap buck, quick as a flash they cruise away in the hope of avoiding apprehension, these boats are really quite speedy, in the span of just over a minute they are starting to appear as little smudges on the horizon, the water is thick with sedimentation that has been forced into the water column, the water looks really unappealing, the turbidity levels go through the roof, whilst it's not the most destructive fishing method, it's definitely not the friendliest, amongst the soupy looking mixture of water and sediment, you notice a descent amount of passing jellyfish floating towards the surface, they almost resemble white basketballs with thick tentacles dangling beneath them, waiting to prey on whatever poor unsuspecting morsel becomes entrapped within their deathly electric appendages.
6:43AM: The turbidity has reduced slightly after the IUU boats have been and passed, every now and then your glance is stolen by the occasional white basketball but, your attention is needed further out toward the horizon in the vast ocean scape, gazing off into the distance the ocean is quite mesmerising, your mind begins to fade away and trail off, the ocean looks so similar and yet it's constantly metamorphosing, if it wasn't for the available landmarks it would be dangerously simplistic to find yourself lost at sea, then to awake you from your day dream a small hand grasps your own, it belongs to a small person(one of your sisters) with no warning they shout "LOOK A JELLYFISH" taken aback but, unamused because you are already aware of the white basketballs passing by in dribs and drabs, so you shoot a quick glimpse out the corner of your eye, continuing to look out over the water, you hear a gasp or some kind of sound like an inhale or exhalation of air, immediately you assume it is a dolphin, you shout "DOLPHIN" but, the small person standing alongside you saw what it actually was, you only heard something break the surface of the water and glanced over to capture an image of something disappearing back into the murky depths, however the small person effectively extinguishes your belief and enlightens you with the fact that it was a turtle, that had come to the surface for a quick breath, possibly between hunting for a nice jelly snack and evading the IUU vessels from earlier, unfortunately no proper ID was possible of the sea turtle but, as if simulating throwing some dry pandanas leaves on some lightly glowing coals of an almost extinguished fire, this brief encounter of a rare reptile sighting (for these waters), has reignited the inspiration, motivation aspiration and drive of your entire being, like hooking some jumper cables up to your nipples it's a positive shock, if that little guy is out there who knows what else awaits on this adventure. The boat changes course and turns towards the west.
7:07AM: The sun has decided to be slightly less shy and has released its clutch from the metaphorical blanket it used to hide its eyes, with similarities of a bird sitting upon a perch looking beneath it's throne, it has now risen up slightly higher in the great blue of the sky, unveiling some land formations on the horizon, a bright light shines off of them giving them an iridescent glow, the ocean has changed from the glass like texture to a shape shifting, sea of mercury, with an almost metallic flavour hidden in the texture, the cloud cover has retreated to expose more of the heavens above, the sun has some bite to it, accompanied by the feeling of a warm hug, no sightings though to record for the data sheet. (just for a laugh you try to shift your perception and imagine the sun to be more than a giant ball of gas and molten heat, you try to see him as a celestial being that only wishes to bestow love and light but, has no control over how much he is emanating, so if you could choose to absorb the desired amount of love and light evenly distributing it around your body so that, not one area of your body is exposed to an over dose and buildup of too much energy, then you can gain a powerful be a powerful ally)
(Just in case you were still following the Beaufort is a 2, the Cloud Cover is 40% and the Glare is still 0)       
7:13AM: Half an hour has already passed but, with all the excitement from earlier you barely noticed,, still bursting with enough life and energy that if it could be harnessed you could power the research vessel you're aboard and then some, surveying with vigilance, and persistence, out of the blue you catch a glimpse of an usual wave quite far in the distance but, this time you keep it to yourself, about a minute passes when someone on the lower level of the boat claims to have a sighting in almost the same area you had your possible sighting, wow you nearly completely forgot about the other members of your crew, at this moment the Team Captain uses their executive pair of binoculars to confirm the suspicions of, several other members in the research team, WHOO HOO! The first real recordable sighting of a cetacean, after the majority of scientists divert their attention to the specified area, a few of them mention half containing a small amount under their breaths "oh yea I thought I saw something over there as well"…hahahaha you're not the only one who kept their suspicions to themselves, maybe communication is key for this survey, if no-one spoke up we wouldn't have any sightings.
7:25AM: Nothing! You were blessed with one quick sighting that appeared and disappeared literally in the blink of an eye, there was nearly nothing to record, now you must work as a team if you have any hope to obtain some positive results, as if the captain of the boat had slipped inside your cranium and read the inscriptions you were scribing into your sub conscious memory for future reference, he shouts treypsout pointing directly ahead, just like a team of under 10 AFL players everyone rushes to the scene of action, dropping any obligations they had prior to that second, watching with awe, and eyes swelling from amazement there it was the Irrawaddy Dolphin,(orcaella brevirostris) what you see must be an illusion surely, it looks like the light from the sun has been captured by hundreds of tiny crystal balls and its entire body glows like a diamond glistening beauty in all directions but, a quick adjustment of the eyes allows you to see with more clarity, the sunlight is reflecting off every little water droplet, that has been separated from the ocean whilst hitching a ride on the back of this cetacean, for a moment in time that feels it could last eternity, as the droplets trickle down its back past the dorsal fin to become reconnected with ocean once more, the creature dives back down beneath the cover of the mercury sea, possibly to not be seen again, your eyes start to water it could be because your balls are starting dry out in your sockets due to the fact your too afraid that, if you blink you might miss the only other sighting, or discovering a diamond in the rough can be more powerful than you originally believed, eventually it's too much, you close the lids to your eyes to remoisten the balls preventing them from shriveling up and becoming stuck to your socket, when you reopen the shutters and welcome the light once again you have a beautiful spectacle to behold, the dolphin is performing the diving behavior, looking past the iridescent glow created by  the combination of sunlight and water droplets, you are able to observe and retain a more vivid picture, the whole body has a gunmetal grey flavour, the shape of the body resembles that of most dolphins, it has a slender feel to it but, also the look of a torpedo, the dorsal fin is quite small, just a slight bump that has almost become inutile, after years and years of evolution it's nearly nonexistent, the head is also quite eccentric, if you imagine a narwhale without its long lance like tooth, just a roundish head, with some resemblance to a human, two little black eyes and a great big beautiful smile beginning from just a pinch in front of one eye spreading across the whole face and coming to an end just before the other eye.
7:30AM: This is a truly life changing experience, more intense then the time you found out petroleum explodes in confined spaces, there is no other way to explain it, if only you could capture this moment and share it with world so you and everyone on this planet can all experience a moment of ecstasy, would everyone share this feeling with you or would they try to destroy the purity and damage your own perception, forget about it, you don't even have a camera anyway but, if you did no amount of mega-pixels could can do serve it justice, this image this feeling, it's about this living moment the breath your breathing, the energy your absorbing, the time that is not noticeably passing, you're caught in a fragment of life exceeding the bounds of time and space, you can't express that, the best you can do is make a mental video to set on replay to relive this moment every day. The dolphin is still playing around in front of the boat, up and down, up and down, he has continued diving becoming submerged inside his watery sanctuary, resurfacing never more than 100 metres away he's probably conducting his own survey on you and your team, what are these strange creatures following me, what do they want are they friendly ?  All of a sudden he goes under flailing his tail up out of the water, letting your eyes feast upon an enormous tail, if you didn't know any better a whale would be more likely to spring to mind than a dolphin its glorious, spanning wider than that of the dolphin, with the uncanny likeness of a boomerang, (hope he comes back) (this is called Fluke up)                                
7:35AM: How could this day get any better you feel like you've reached for the sky and touched moon, this one creature has brought more excitement to you then a child at Christmas time but, just like that child who has unwrapped all of their presents and thinks all the surprises have come to an end, but manages to have their beliefs shattered into a thousand pieces and tiny fragments, when they discover that one last present tucked away under the bottom of the tree, you have your own surprise waiting, slightly off from the centre of the back of the boat, one person has returned to their post, just in time to spot a new discovery, another dorsal fin and another and another, diving dolphins, there must be a pod of 8-12 or more dolphins,(if you can see several fins at the same time there is a possibility that 3 or more members of the pod are submerged yet to be discovered) how long have they been there? Whilst everyone had abandoned their positions to marvel at the lone spectacular specimen, you lost the careful watch of your entire surroundings, had this one been distracting your team the whole time so his family could pass by undetected, now that's taking one for the team, this is incredible unmentionable one was a spectacle now this an unforgettable dream, fortunately they don't stay at the back too long, before you know it they travel dive their way to the front left of the research vessel, and everyone is able to take in their beauty as they dive around the boat stealing the attention of all who are on board, leaving them with smiles to match their own they jump and frolic and play it is too hard describe they dolphin about basically,
7:40AM: These cetaceans are far smarter than you anticipated they've actually split into two separate pods now, each pod has roughly 5-6 dolphins give or take a dolphin 1 pod is continuing to dive around the front of the boat and the other pod is slowly disappearing off towards the right, it is still not clear but, it definitely appears that they are attempting to divert your attention, wow the pod disappearing to the right looks like it might contain a smaller dolphin possibly a juvenile, that could explain the eye snatching behavior let's call this pod 1B and the other pod 1A, with this new discovery, it would be wisest for future documentation of this species to not allow them to feel threatened, so bringing your attention, back to pod 1A they are breaking through the surface of the water, exposing there glistening vertebrae and minuscule dorsal fin, really working at managing to hold the gaze of the entire boat, they could of picked your pocket and robbed you blind given the chance, your entire crew is immobilised, caught in a trance.
7:45AM Something sparks your interest as to the where abouts of pod 1B is, you scan the ocean where you last sighted them and they aren't visible not a fin, that's nice you think to yourself, hope they weren't stressed at all and managed to arrive to their destination safe and sound, looking back to where your attention was once plucked, the other pod of dolphins has also gone, as you look around a few of the researchers are still watching the dolphins carefully as they disappear in the same direction pod 1B vanished, as you manage to capture a few last glimpses of the dolphins travel diving off into the horizon, before they submerge one last time back into the ocean surrounding the Kep archipelago, you are amazed by the size of the smile they slapped on your face and the memories they etched into your brain, wow what a simply remarkable and recordable day, that should be one of many, many more to come, the entire research team is over the moon with results, the experiences and most cherish able of all the life changing memories to share with the world.
And, that's just the beginning!