MCC 1st crowdfunding campaign is now closed and finished! We finally managed to reach 12136$, almost 25% of our Goal, in 3 months. It will extremely helpful for the next steps of the project.
We planned to run the campaign until we reached our goal, but unfortunately, the platform we were using, Generosity, will stop raise fund at the end of the month, to fusion with YouCaring, another crowdfunding website. We then decided to stop our fundraising a bit before, to prepare for the next campaign. 
Looking a the success of this fundraising, we are thinking to start another one in a couple of weeks, to keep going and try to reach the planned 49500$, and finally, cover a big part of our costs. We had more than 5000 visits on our page and almost 1000 shares on Facebook, touching people from all over the world! We received donations from Canada, France, Cambodia, USA, Germany, Sweden, Singapore, Spain, Italy, Belgium, Japan, Norway, Australia, New-Zealand, Thailand, Switzerland. This motivates us even more.
What are the next steps now?  First, we will send the rewards to our supporters. Than, we will learn about our campaign, our mistakes and successes, and try to design our next one to convince more people to support us! 
Here is a small summary of the results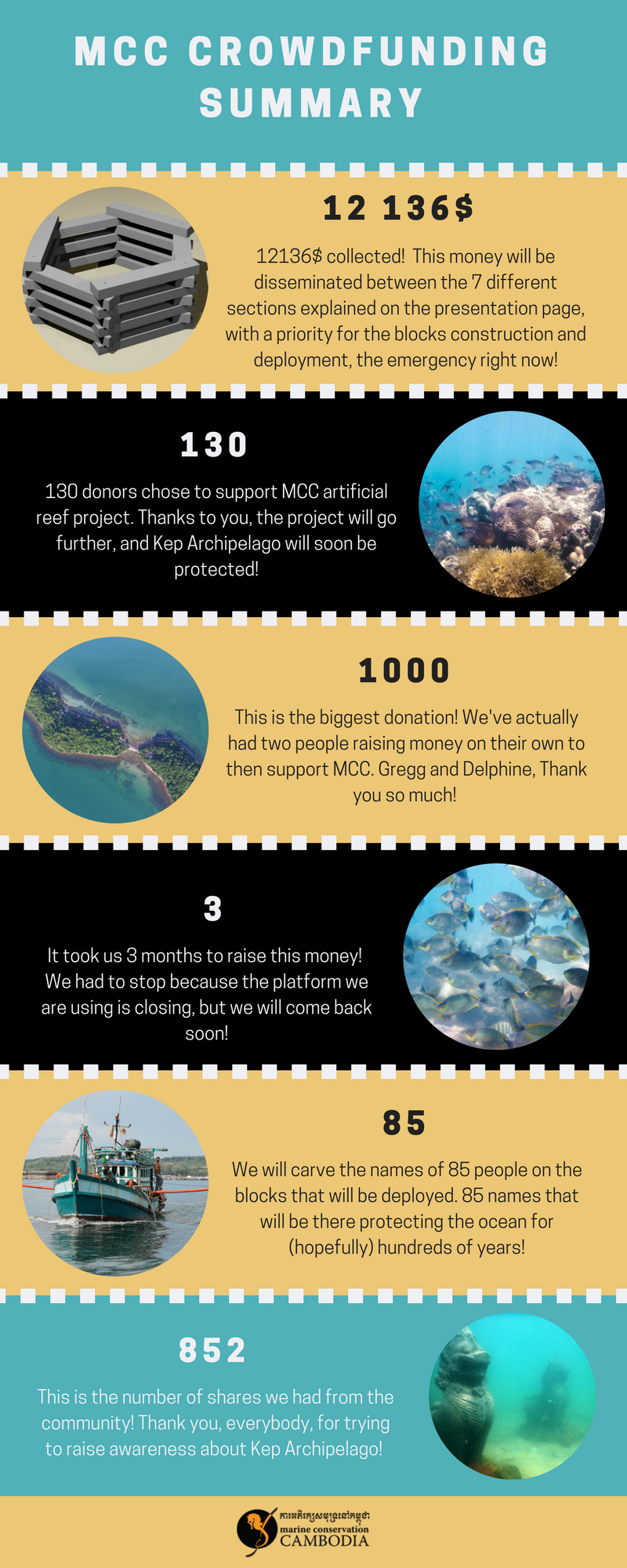 Again, every MCC member wants to thank you for your investment and support. It was our first crowdfunding campaign, and it's extremely touching to feel that we are supported by people from all over the world. It gives us hope and more strength to keep fighting for Kep Archipelago, the unknown and endangered paradise of Cambodia.
We will do our best to send all the rewards as quickly as we can, and we will, of course, keep you updated of the evolution of the project and how your money was used for!