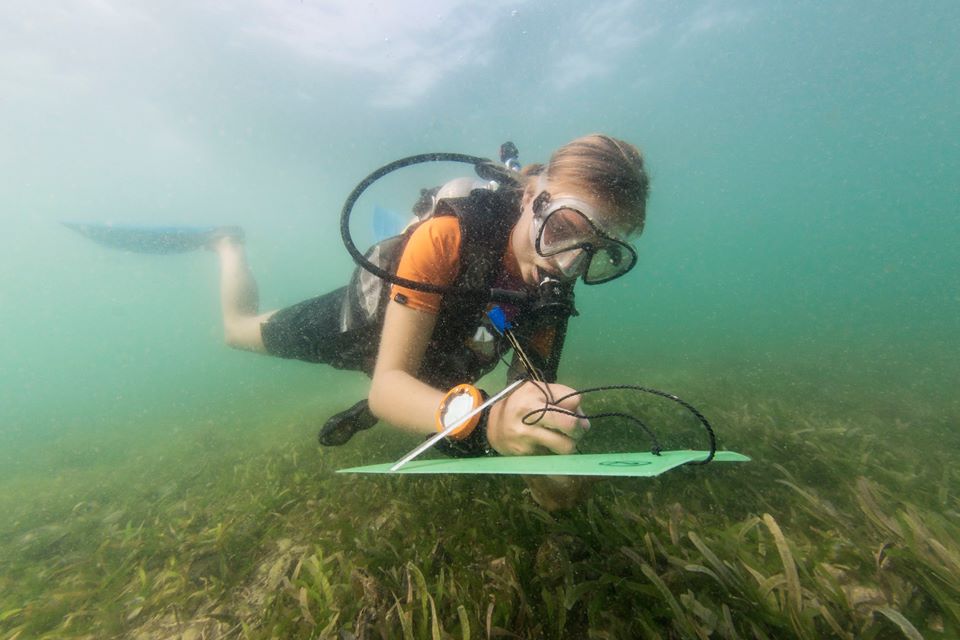 56 minutes into a seahorse survey, and no seahorses. How unfair that such beautifully impressive creatures are also so agonisingly elusive! I take a glance to my left to see my buddy painstakingly scanning the seagrass bed beneath us… with just four short minutes left to survey, I can tell he's as anxious as I am to catch a glimpse of this almost mystically dragon-like fish. We're told in our survey training that seahorses are the masters of camouflage; effortlessly vanishing into their surroundings, but all of a sudden it seems backward, and almost every strand of seagrass deceptively appears as a seahorse. Damn. I stop for a moment and hover underwater, concentrating hard on my surroundings to properly observe the life around me. A couple of wasp-fish lie motionless and hidden in the dense seagrass, a small chocolate-drop sea star lurks next to them in wait of food, to my right three shimmering fusilier fish dart after one another, and there… finally! A seahorse. Strikingly yellow, this is undoubtedly the most impressive I've sighted during my six weeks on the island so far, and I can't help but smile as I signal to my buddy to come over for a look. I can tell that the two of us could be captivated by the golden female for hours. The skilful way the body sways back-and-forth in the swell while its curled tail holds fast to the seagrass is almost hypnotically mesmerising. After allowing the seahorse to accept our presence as unthreatening, I carefully take a few measurements and photos, identifying its species as H. kuda, before the two of us surface for a ceremonial fist bump – survey success!
Hi, I'm Chloe Hatton and I'm staying on the beautifully remote island of Koh Seh and working with MCC for a total of three months. After being accepted to study BSc Marine Biology in the UK next year, I decided to look for some hands-on, practical experience in the field of marine conservation. MCC's studies into seahorses really intrigued me – particularly the aspects relating to the human and environmental interface in Cambodia and using them as an indicator species for the health of local ecosystems – and here I am! The waters surrounding Kep Archipelago have been decimated by damaging methods of overfishing in the last decades, and the seahorse is a key species that can be monitored to follow recovery in the area with environmental protection brought through MCC's work. Now half way through my time here, I couldn't be more pleased with my decision to fly half way around the world to join the (albeit mildly dysfunctional) family of volunteers and staff! Each day I learn something new, laugh at something new and go to bed exhausted!  
The Hippocampus. kuda like my buddy and I found is a smooth bodied seahorse, and one of eight species that the volunteers at MCC learn to identify. The studying begins with presentations from the project's very own seahorse expert, volunteer coordinator and 'surfer dude', Amick. From there, each volunteer receives an iSeahorse Toolkit document to revise from before a small test, ensuring all have a good knowledge of seahorses and substrates before beginning surveys. In addition to this, longer-term volunteers can choose to study fish, substrate or invertebrate ID in depth to assist with reef surveys – something which I'm currently attempting! Information collected on seahorse surveys is added to a database daily, where it can be scrutinised by any volunteers senseless enough to enjoy statistical analysis, and conclusions can be drawn about changes in the population in the waters around Koh Seh.
Aside from collecting data in surveys, MCC also offers the opportunity to be involved with all kinds of projects; Mangrove cultivating, patrolling for illegal trawlers, coral planting, seagrass mapping, aquaculture schemes and even involvement in writing proposals for marine protected areas. In fact, one of the most ground-breaking investigations into underwater seahorse tagging is centred at MCC. Monthly dives take place in which seahorses are safely injected with a polymer dye to form four small coloured marks to identify the individual. When the tagged seahorses are sighted in future, it is then possible to ascertain data regarding the pattern of its movement, growth rate, and any other changes to the individual. Watching the tagging process has been one of my personal highlights whilst on the island and something I will never forget as the most interesting investigation technique I've witnessed.
Although the island is a hub of activity each day and everyone is dedicated to the work going on, there's no shortage of time for play! From volleyball matches to late nights relaxing in hammocks and morning meditation to stargazing, Koh Seh has something for everyone and is impossible not to fall in love with.
MCC is a small organisation operating on so many fronts to fight for conservation, so working here as a volunteer can really give you the feeling of making a difference.
The best part? It all starts with a seahorse.